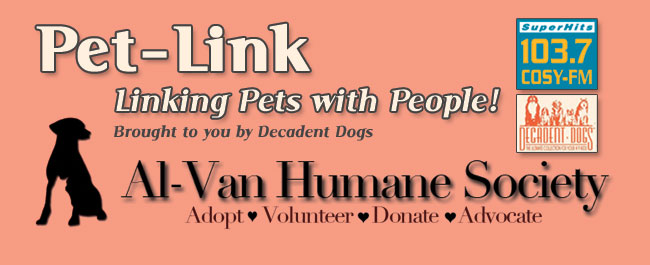 Brought to you by Decadent Dogs on Phoenix Street in Downtown South Haven. The Ultimate Collection for your Canine Kid!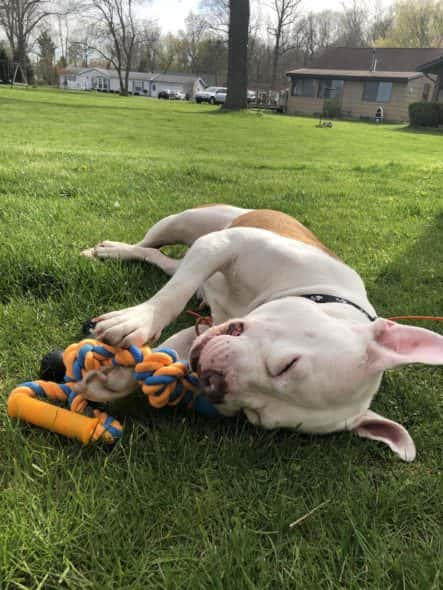 Meet Coco!
She is a 3.5-year-old lovely lady whose smile is bound to make you smile! Coco is a sweet girl who loves lots of attention, cuddles and to be close to her humans. She also enjoys playing with toys and taking naps on the couch. Coco would love to meet and play with you!
If you are interested in this sweet gal, start by filling out an adoption application online at www.al-van.org/adopt. Once reviewed, we will get in contact with you about setting up a meet and greet!
---
Upcoming Events:
Pet Portraits Fundraiser
Get a one of a kind artwork and help save the lives of our shelter animals! C. Mustari Art and Nica Ware are offering beautiful charcoal, acrylic, and digital portraits of YOUR animals. It is a great unique gift for birthdays, Christmas, or just because! To place your order: visit or call Al-Van's Adoption Center! (269-637-5062) (07591 Blue Star Hwy, South Haven, MI 49090)
MI 10c Bottle Drive
Have you been saving your cans and bottles? Al-Van is accepting donations of MI 10c cans and bottles! Every little bit adds up and will go directly to the care of our shelter animals! Donations can be dropped off at the Adoption Center (07591 Blue Star Hwy, South Haven, MI) during hours of operation (M, Tu, Th, F 11-5:30 and Sat 11-3). Thank you!
Chowhound Holland Meet & Greet – August 15th
Stop by Chowhound in Holland to meet some of our cats and dogs that are available for adoption on August 15th from 11:00am-2:00pm!
Due to the concern of Coronavirus (COVID-19), we are currently closed to the public and operating by appointment only. We understand this is a difficult time for everyone in our community. Please rest assured our animals are being taken care of and loved day in and day out by our wonderful staff, and we are looking forward to welcoming the public and volunteers into our building again.
If you are interested in adopting or fostering, we are requesting that you submit an application online that can be found at www.al-van.org/adopt (adoption applications), www.al-van.org/donate (foster applications) and then call the Adoption Center at 269-637-5062 to schedule an appointment.
During this time, we continue to need food, supplies, and monetary donations for the care of our animals. Any donations at this time would be greatly appreciated. Donations can be dropped off or shipped to the Adoption Center (07591 Blue Star Hwy, South Haven, MI 49090). Thank you for your continued support and commitment to our cause.
---
Meet COCO with Paul Layendecker and Al Van's Rene Rush and SEE her by clicking HERE: https://www.wcsy.com/pet-link/ Podcast: Play in new window | Download | EmbedSubscribe: Apple Podcasts | Android | Email | Google Podcasts | Stitcher