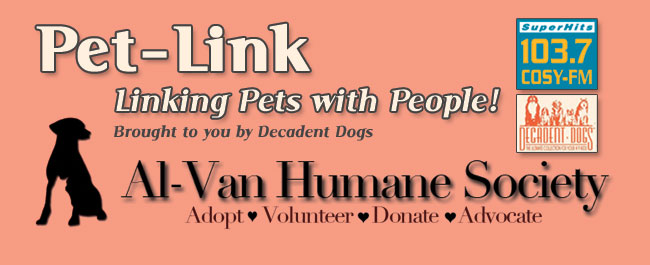 Brought to you by Decadent Dogs on Phoenix Street in Downtown South Haven. The Ultimate Collection for your Canine Kid!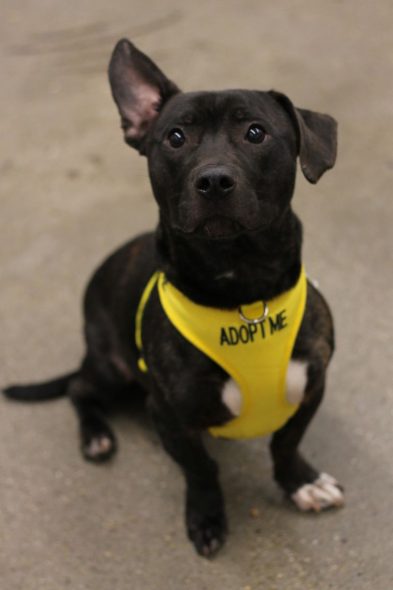 Our spunky Pet of the Week is Kyro!
Kyro was brought to the shelter when his owner couldn't give Kyro the attention he deserves. He's a sweet boy about a year-and-a-half old with some training and a playful, happy streak you'll fall in love with! This guy turns heads – his own seems too big for his body! We're not really sure what heritage Kyro has, but we know he's that perfect size for apartment living. He'd love a chance to find an owner who will throw him toys, take him for walks, and, most importantly, give him a lap to sit on. Kyro would be great with kids, and may do well with another animal friend, but a meet-and-greet would be required.
Can you give this handsome, goofy pup the loving forever home he needs?
EVENTS:
–         Al-Van Celebrates 50 years! We would love for everyone to join us on Saturday, September 29 as we celebrate our 50th anniversary.  We will be at South Haven Brewpub from 3-5pm sharing stories and pictures of many shelter animals that have touched our lives over the years.  One of those lucky animals will actually have a beer named after them!  This contest winner will be announced and signature beer available that night – be the first to try it! (Hors d'oeuvres provided.  Cash bar.)
_      On October 6th we will Empty the Shelters! Thanks to a generous grant from the Bissell Pet Foundation, Al-Van is able to again offer this incredible opportunity to the community. On Saturday, October 6th from 11 a.m. to 3 p.m., all adoption fees on ALL of our available animals has been covered! Due to the popularity of this event, we recommend getting your application pre-approved by visiting www.al-van.org. Only approved applicants will be allowed admittance into the building. More information is available on our Facebook page, or you can call the shelter at 269-637-5062 to learn more.
AL-VAN HUMANE SOCIETY
73303 8th Avenue
South Haven, MI 49090
269-637-5062
HOURS:
Monday and Tuesday 11am-5:30pm
Thursday and Friday 11am-5:30pm
Saturday 11am-3pm
Closed on Wednesdays & Sundays
www.al-van.org
Jennifer Nuernberg, jnuernberg@al-van.org
Log-in to http://www.fundinco.org/orghome.php?orgid=326 to make your AMAZON.COM purchases and Al-Van Humane Society will receive 3% cash back from your purchase! It costs you nothing!