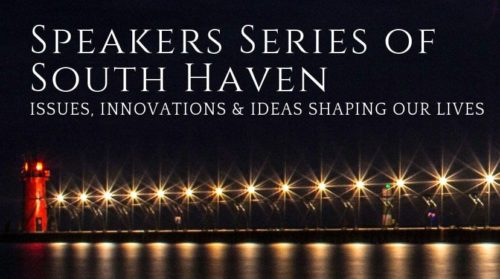 Topics spanning the globe will be featured by the Speakers Series of South Haven during its 2023 presentations.
Four presentations are being planned, two this spring and two more in the fall, according to Series president Mark Odland
"As we begin our ninth season, we have put together an exceptional lineup of highly relevant content supported by some terrific speakers," said Odland. "Our board has worked hard to assure this year will be one of our best. We think our audience members will agree."
The topics will range from a closeup look at China to the cannabis industry, especially its impact on southwest Michigan. Other presentations will look at the growth of autocracy in the world and an examination of healthcare reforms in the United States.
All the presentations will be held at the South Haven campus of Lake Michigan College.
The Series begins on Thursday, May 4 when Dr. Ann Linn, associate professor of public policy and director of the Lieberthal-Rogel Center at the University of Michigan, presents "The World According to Xi: Should the U.S. Fear China's Rise?"
It follows on Thursday, May 18 with the presentation "Challenges to Democracy: The Growth of Autocracy in the World" by Dr. Joel Toppen, chair of the political science department at Hope College.
Next will be on Thursday, September 14 when Randy Oostra, considered one of the nation's leading authorities on healthcare and retired CEO of the health system ProMedica, speaks to the topic, "Five Numbers That Could Reform Healthcare: Where You Live Should Not Decide Whether You Live or Die".
The Series concludes Thursday, Oct. 26 with a topic close to home when Jennifer Rigterink, associate director of state and federal affairs for the Michigan Municipal League, speaks on "The Good, The Bad and The Ugly of the Cannabis Industry: Its Impact in Southwest Michigan".
The presentations will begin at 7 p.m. Complimentary refreshments are served prior to the event. Admission is $10. There is no advance ticket sale with doors opening half-an-hour before the presentation.
The South Haven Speakers Series is a 501c3 non-profit organization. Approximately three-quarters of the Series budget comes from generous donors. Further information can be found at the Series website — southhavenspeakersseries.org.