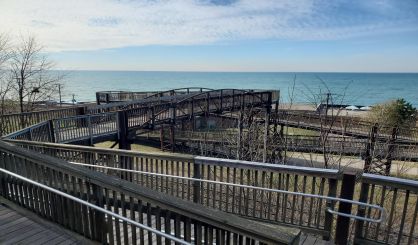 St. Joseph City Commissioners have signed off on the final phase of a maintenance project for the Howard Trail pedestrian bridge over the CSX Railroad tracks. At a Monday meeting, St. Joseph Department of Public Works Director Greg Grothous told commissioners the bridge, opened in 2002, has been receiving work each year since 2020. First, they repaired the parts of the bridge that are not directly over the railroad tracks. He told us now comes the part over the tracks.
"The contractor will come in and remove all the decking across the span that crosses the railroad tracks, what we're calling spans two and four," Grothous said. "So, they'll remove all the decking on those, and then they'll clean – and by clean, we mean they'll remove all the pack rust, sandblast it, and allow the oxidation process of the steel to take place and essentially protect the bridge for the future."
Grothous told commissioners the bridge needs the maintenance sooner than it might have otherwise due to city staff having salted it in the winters for several years. They weren't supposed to do that, and no longer are doing so. Either way, the bridge now needs sandblasting and other work. Phase 3, the final phase, will cost around $330,000 and starts in February or March. Grothous noted due to the work being over the railroad tracks, the city needs several permits from CSX and crews will frequently have to stop work. He told commissioners once the work is done, it should be decades before the pedestrian bridge will need any more.
Comments