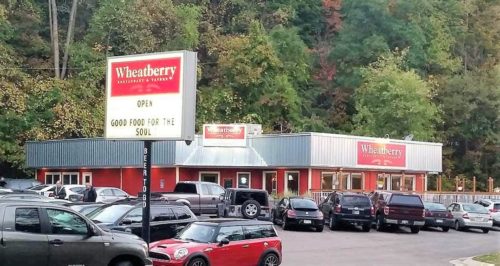 An increasingly popular food truck will soon be settling in to a new riverfront location.
Anton and Ariel Lockett, owners of St. Joseph-based food truck Evelyn Mae's BBQ, announced they have purchased the former Wheatberry Tavern in Buchanan. The new restaurant is named Fifteen-2-Twelve after the building's address, 15212 N. Red Bud Trail.
After a series of unexpected life events led them to open Evelyn Mae's BBQ as a catering-only company in November of 2019, the two expanded their business to operating out of a food truck in the summer of 2021. Since then, the food truck has popped up at events all across Southwest Michigan, including the 2022 KitchenAid Senior PGA Championship where they catered the Makers Trail 19th Hole, helped push their demand to a level that required yet another area of expansion.
The Wheatberry Tavern was a popular restaurant tucked along the winding, tree-lined road along the St. Joseph river. It was known for its tavern fare, as well as its take on southern-style BBQ. The restaurant closed in April 2020 due to the COVID-19 pandemic, and never re-opened.
"We are thrilled to see this beautiful building in a picturesque location overlooking the St Joseph River filled with life again," said Buchanan Chamber of Commerce Executive Director Ashley Regal. "We cannot wait to sit around the table and enjoy delicious BBQ and great atmosphere and are so grateful to the Locketts for making this possible."
After another location fell through for the Locketts, they discovered the potential of the Wheatberry location.
"We are excited for the opportunity to grow in Buchanan and feel this is the perfect location to create a great home for our company," Anton Lockett said. "It's a big plus that barbeque was on the menu when it was Wheatberry, I think it's equal parts fate and luck."
The couple closed on the purchase of the Wheatberry Tavern building on Oct. 31, and have tentative plans to open in December. When the restaurant opens, guests will find BBQ offerings, with the plan to expand the menu as they hire and build their kitchen team, including hiring a head chef.
"Our goal is to have a full menu filled out by Spring," Anton said. "In the meantime, we will have the BBQ offerings people already know us for with monthly features of appetizers and entrees."
Southwest Michigan Regional Chamber President & CEO Arthur Havlicek said he looks forward to the business joining the Buchanan Chamber.
"Witnessing first-hand the success that Anton and Ariel have built with Evelyn Mae's, we are excited to cheer them on as they continue to invest and build their business and brand in Southwest Michigan," Havlicek said. "We look forward to joining the Buchanan Chamber, the Locketts and their entire team in celebrating their official opening at a later date."
For more information on Fifteen-2-Twelve and Evelyn Mae's BBQ visit their Facebook page.
– Adapted from a press release by the Southwest Michigan Regional Chamber.
Comments