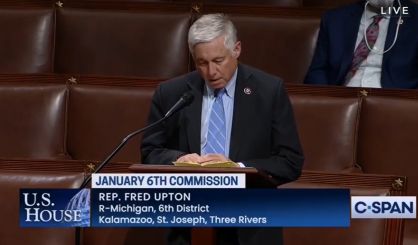 Gun reform legislation could be approved by the Senate next week. Congressman Fred Upton tells WSJM News Senate negotiators were able to reach a compromise left out a few of the proposals that were initially on the table.
"To get anything done, you've got to get 60 votes," Upton said. "Some issues simply were not going to happen. Never was there going to be an amendment that would be included in the package that would ban assault weapons like the AR-15. Though raising the age to 21 to buy a semi automatic weapon was on the table for a while, with a federal court ruling in California a couple of weeks ago  against that, that fell off the table."
Upton says the package also includes funding for states to implement red flag laws. He voted for a House package this month that would have raised the minimum age to purchase semi automatic rifles to 21. Upton says he doesn't believe any legitimate gun owners will have anything to fear.