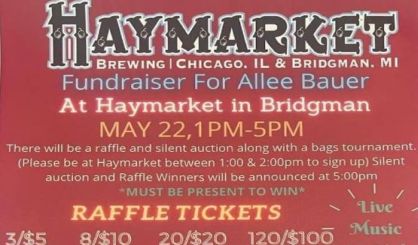 A fundraiser will be held this month for a Bridgman teen battling cancer. 15-year-old Allee Bauer has cancer in the soft tissue that surrounds her femur. Her aunt, Darcy White, tells WSJM News Allee broke her leg shortly after wrapping up the basketball season at Bridgman High School and the doctors soon discovered the cancer. They can't operate on the leg while Allee goes through chemotherapy. White says the family has health insurance, but they have a host of other needs, and people started asking how they could help.
"What we're trying to help out with right now is all these medical costs that they have ahead," White said. "We've started a Go Fund Me we've already gotten a good amount from, but I know so many people have been asking me and my family what they can do to help because so many people want to do something."
So, White, along with the owner of Haymarket Brewing and more family of Allee plan a fundraiser at Haymarket Brewing on May 22. They'll have an auction, a raffle, and games. The Go Fund Me has already raised around $16,000. In addition, she's looking for a venue to hold a garage-style sale. The fundraiser at the brewery will be on the 22nd from 1 to 5. Everyone's invited.