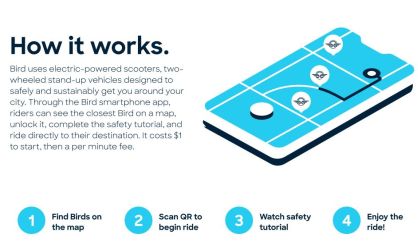 St. Joseph City Commissioners have granted their approval to a California firm to rent out electric scooters in the community. Bird Rides, Incorporated will soon start renting out the motorized vehicles in Benton Harbor, and with approval to do so in St. Joseph, people will be able to pay a fee to take them on short trips around St. Joe as well. Commissioners were told how the service works on Monday.
"Individuals download an application on to their mobile device, they will go through a safety tutorial when they create an account where they are taught about safe riding behavior as well as parking etiquette. They then are able to see any of our devices throughout the community or use the map function on the app, scan it to unlock, take it to where they need to go, usually somewhere about ten minutes away, scan it to end their ride."
Eeach scooter is equipped with a GPS device that enables the company to control where it can or can't go and at what speed it travels. The St. Joseph scooters will be capped at 15 miles per hour, about what a bicyclist would go. Bird Rides will work with two local vendors who will monitor and maintain the scooters. Their speed and functionality will be limited when someone tries to take them across one of the bridges between Benton Harbor and St. Joseph so they can't be ridden on the bridge itself. The plan is to start out with about 20 scooters in St. Joseph and expand as demand requires.