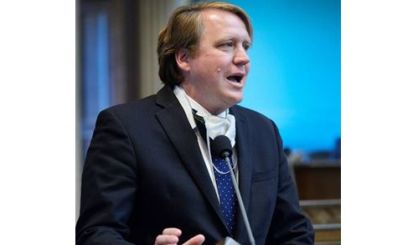 State Senator Aric Nesbitt is back to work in Lansing along with his colleagues as the Michigan Senate convened for its first session of 2022 on Wednesday. Nesbitt told WSJM News looking ahead to the new year, he wants to reduce the state's individual income tax rate.
"This inflation is making life more difficult for many hard working families, and I think supporting measures to lower taxes and provide refunds back to the taxpayers here in Michigan will help them through these times."
Nesbitt says the state has surpluses that should be returned to residents. Also, with the federal infrastructure bill sending billions to Michigan, he says we have an opportunity.
"The one-time resources from the federal government, we need to invest very wisely into our roads and water infrastructure, use to expand broadband access, and to really help create a healthier, faster growing economy."
Nesbitt says creating a new child tax credit and rolling out more broadband are other priorities. He sees the supply chain and inflation as big challenges to getting the state's economy rolling again. If he seeks re-election, Nesbitt will be representing northern Berrien County in the state Senate. He has not yet made an official announcement.
Comments