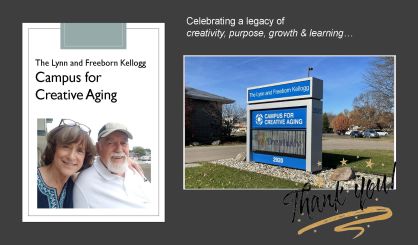 The Campus for Creative Aging in St. Joseph is being renamed in honor of retired Region IV Area Agency on Aging CEO Lynn Kellogg. Current CEO Christine Vanlandingham tells WSJM News the campus will soon be known as the Lynn and Freeborn Kellogg Campus for Creative Aging for Lynn and her husband. Vanlandingham says Kellogg made a big difference to the Area Agency on Aging.
"She came to the agency in 1976 and she was the fifth staff person here, and then 21 years ago she became the CEO and has grown the organization from then five people to 75 staff, hundreds of volunteers, and more than 100 partner organizations across the tri county area," Vanlandingham said.
Vanlandingham says Lynn Kellogg's last day was Friday. The Campus for Creative Aging connects seniors and the disabled with businesses and other organizations for services, and offers activities that include a choir, seminars, and classes. A ribbon cutting to mark the name change for the campus will be held when the new sign is ready.