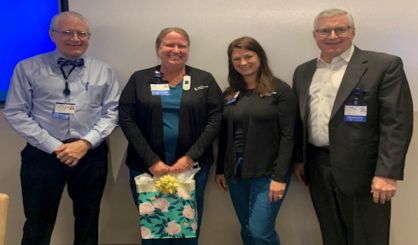 More than $75,000 in grants and scholarships have been announced by the Spectrum Health Lakeland Foundation. Interim President Melinda Gruber tells WSJM News $26,000 is in the form of 26 scholarships to team members and students for education, and $48,000 is in the form of grants to support continuing education for Lakeland team members.
"We're investing in our team members and the youth in our community with the hope they will remain in Michigan's great southwest as healthcare providers within our system" Gruber said.
Gruber says the education funding was announced during a virtual celebration in June.
"The virtual event was just a great opportunity to recognize many of our team members who are pursuing additional education, but also to honor outstanding leadership during the last 18 months."
For more than 25 years, the Spectrum Health Lakeland Foundation has awarded more than $1.5 million in scholarships and grants to Lakeland team members, departments, and volunteers. It's possible thanks to endowments from supporters.
Photo caption: L to R – Lowell Hamel, MD, chief operating officer; Bridget Demler, MHA, MSN, RN, intensive care unit nurse manager; Natalie Baggio, MBA, BSN, RN, senior vice president, patient care services and chief nursing executive; Loren B. Hamel, MD, president, Spectrum Health Lakeland
A list of the grant and scholarship recipients is below:
Spectrum Health Lakeland team members and area students (listed by their hometowns) who received scholarships through the foundation include:
Benton Harbor
Kaitlyn Eichler, Growth & Achievement Scholarship
Freda Steed, The G. Clemens Theisen Memorial Allied Health Careers Scholarship
Berrien Springs
Azra Totobesola, Bill & Golda Madison Memorial Allied Health Careers Scholarship
Buchanan
Kristen Johnson, Lucille Beebe Coles Healthcare Educational Endowment
Coloma
Alyssa Hobson, The Walter B. Laetz Memorial Allied Health Careers Scholarship
Jaidyn Hutsell, The James W. Tiscornia Memorial Nursing Scholarship
Galien
Traci Payne, Allan & Vera Buckalew Memorial Nursing Scholarship
Niles
Annelise Bedell, Niles College Scholarship
Marshall Grathwohl, Norman P. Beebe Memorial Allied Health Careers Scholarship
Miriam Karengo, The Walter B. Laetz Memorial Allied Health Careers Scholarship
Madison Millar, Niles College Scholarship
Portage
Allyson Hughes, The Victor Palenske Memorial Allied Health Careers Scholarship
Sawyer
Luke Linscheid, Ruth Frobel Memorial Nursing Scholarship
St. Joseph
Asad Butt, MD John Proos, MD Memorial Scholarship
Lauren Cook, Spectrum Health Lakeland Family Scholarship
Bridget Demler, Leo Soorus Leadership Award
Victoria Felton, The Joseph A. Wasserman Scholarship
Heidi Fox, The William E. Johnson Memorial Scholarship
Heidi Harrell, Deborah Lynn Griffin Memorial Scholarship
Libbee Nason, Spectrum Health Lakeland Family Scholarship
Ashley Schlipp, Spectrum Health Lakeland Family Scholarship
Jordan Smith, Lester Tiscornia Memorial Endowment Fund
Elise Vogelwede, Spectrum Health Lakeland Volunteers Allied Health Careers Scholarship
Stevensville
Kara Eversole, Growth & Achievement Scholarship
Union Pier
Courtney Dixon, The G. Clemens Theisen Memorial Allied Health Careers Scholarship
South Bend, IN
Dorcas Hodges, Frederick S. Upton Foundation Memorial Nursing Scholarship