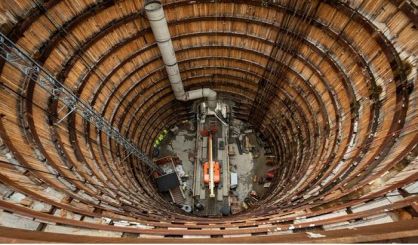 As floods closed highways in Detroit this past weekend, the Michigan Department of Transportation is factoring future flood events into its project planning. Speaking on the MDOT podcast "Talking Transportation" this week, spokesperson Rob Morosi said the new I-75 and I-696 interchange features a new innovation, a drainage tunnel.
"This tunnel is essentially 14 and a half feet in diameter, four miles long," Morosi said. "Being 14 and a half feet and that length, we're able to hold close to 25, 26 million gallons of water."
Morosi says while such a tunnel can't be added to I-94 in the region, MDOT is looking at other solutions as it does a highway project on that highway
"Part of it is actually just modernizing the drainage system. You're looking at a freeway that when it was originally built in the city of Detroit starting g in the late 1940s and continuing through the 50s."
Morosi says reconstruction projects on I-94 in Detroit are being designed with more modern drainage systems. Another feature of some new highway projects is the inclusion of green spaces.