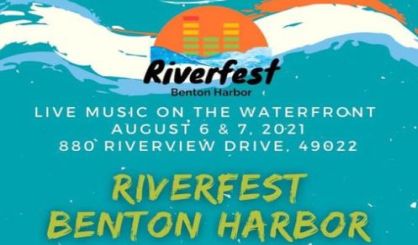 The return of the Benton Harbor Riverfest will be on August 6 and 7 at 880 Riverview Drive. The Riverfest will be a celebration featuring music and more, says organizer and Benton Harbor City Commissioner Sharon Henderson. She tells WSJM News there was a Riverfest held many years ago, and she wants to recapture its spirit.
"It was just a great environment, a great time for the residents of Benton Harbor," Henderson said. "So the goal is to provide that same kind of lively environment where people will enjoy. We're hoping that the environment we're creating will be something that people will remember and enjoy."
Riverfest's Julee Laurent says the two days will be packed with activities.
"We have circus camps for kids, we have food trucks, and we have got a bunch, probably over a dozen now, local Benton Harbor artists and vendors that are going to be setting up so people can see what Benton Harbor is all about."
Riverfest will feature a variety of local music, including Niki Haris. There will also be a Friday night 5K. The Benton Harbor City Commission this month signaled its support for the event, and it's hoped it can become a new summer tradition. You can find out more and get tickets through the Benton Harbor Riverfest Facebook page.