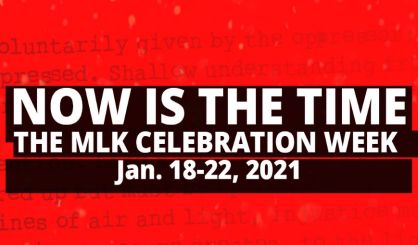 The 2021 MLK Celebration Week at Lake Michigan College will be all virtual. LMC President Trevor Kubatzke tells us MLK Week is all about marking the legacy of Dr. Martin Luther King, Jr. and enlightening the community. Everything begins the morning of January 18 with the MLK Celebration Week Kickoff.
"We're thrilled to have the mayors of St. Joe and Benton Harbor doing a welcome to talk about the unity of our two communities, as well as Whirlpool and our other sponsors will be participating," Kubatzke said.
Congressman Fred Upton will also speak, and there will be a presentation from Benton Harbor High School graduate Tekeidra Masters, the Boys and Girls Clubs of America 2020 Midwest Regional Youth of the Year. Kubatzke says the rest of the week will feature events each day.
"We wanted to make sure there are opportunities, and that's why you'll see some adult book discussions, we have a children's book discussion, the trivia nights on MLK and civil rights, talking about Juneteenth, continuing the education process."
All of it will be virtual, and you can register at LakeMichiganCollege.edu/MLK. Kubatzke says he hopes the MLK Celebration Week will keep people engaged, turning into a whole year of education.
Comments