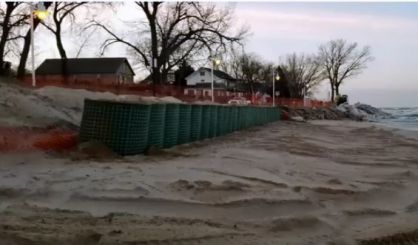 Work to protect the shoreline along Silver Beach in St. Joseph is nearing completion. Berrien County Administrator Brian Dissette told the Berrien County Board of Commissioners on Thursday contractor Triple D Excavating has put large rocks in place near Lake and Park Streets where erosion was threatening the right of way. He showed commissioners pictures of the site.
"The contractor continues to progress, and these green barriers are the Hesco barriers," Dissette said. "They've been set up in the last day, and those are temporary control measures that will be on site for the next year or two as we wait for water levels to recede."
The Hesco barriers are made of a wire mesh and filled with sand. Dissette said he's been impressed with the contractor's ability to get the work done quickly. He noted the barriers went in just in time for lively lake conditions this week that have attracted some surfers out to the beach.