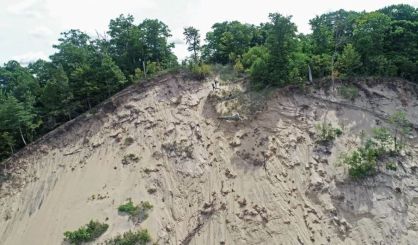 48 acres of nature along Lake Michigan will soon be open to the public now that the Southwest Michigan Land Conservancy and the South Haven Area Recreation Authority have completed their acquisition of the Porter Legacy Dunes. Conservancy President Peter Ter Louw tells WSJM News the dunes are located directly south of Pilgrim Haven Natural Area near South Haven.
"It has a creek running through it, Dyckman Creek, it is a spectacular beech, maple, hemlock forest, the dune rises out of the lake at places probably 100 feet tall, and it has the most incredible spring wildflower display I think any of us have ever seen," Ter Louw said.
Ter Louw says the Porter Family protected the natural area for 130 years until Catherine Porter Arini passed away a few years ago and left it to her fiancé. Since he lives across the country, he wanted to find a new guardian for the land and agreed to wait while the South Haven Area Recreation Authority pursued a Michigan Natural Resources Trust Fund grant. Ultimately, the state awarded $2.26 million to the Porter Legacy Dunes project, and the sale was completed last week.