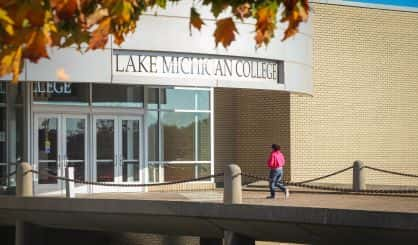 Lake Michigan College has announced that it will be offering free tuition for those who were frontline workers in the COVID-19 pandemic. LMC has released the following statement:
Lake Michigan College is among the community colleges participating in the Futures for Frontliners program unveiled today by Gov. Gretchen Whitmer. 
The scholarship program offers free tuition to Michiganders who worked in essential industries during the height of the COVID-19 pandemic shutdown. It covers the cost of associate degrees, certificates and high school equivalency exams.  
The program aims to increase the number of skilled workers in the state and help essential workers earn higher wages. On average, workers with a two-year degree earn $7,500 more annually. Seventy-five percent of Michigan jobs require education beyond high school. 
"This is a terrific opportunity for current and former LMC students who haven't yet completed their degrees. Many of them worked during the state shutdown, putting their health on the line to keep our community going. They're heroes and deserve every chance to pursue their dreams," LMC President Trevor A. Kubatzke said.  
Essential workers in Michigan without a college degree or high school equivalency who worked at least half-time in 11 of 13 weeks from April 1 through June 30 are eligible for the program. This includes employees who staffed grocery stores and restaurants, provided waste management services, manufactured Personal Protective Equipment (PPE), operated public transportation, or provided critical police or fire services, among others.  
Those without a high school diploma or equivalency are eligible for additional services to help them prepare for and complete their GED before going on to a community college or job training program.  
Scholarship applications are currently being accepted through Dec. 31. Once accepted into the program, frontline workers can enroll in spring semester classes which begin on January 11, 2021. 
To learn more about Futures for Frontliners at LMC, visit www.lakemichigancollege.edu/frontliners or call (269) 927-6596.