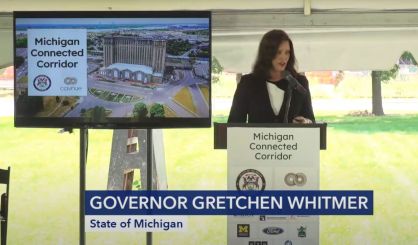 A first-of-its-kind connected and autonomous vehicle corridor is set to be built between Detroit and Ann Arbor to help test driverless cars. Governor Gretchen Whitmer was among those speaking at a Michigan Economic Development announcement today in Detroit.
"Today we are taking the first steps toward enabling the world's first corridor-level infrastructure that will support the development of connected, and autonomous vehicles here in Michigan," said Whitmer
Ford Motor Company executive chairman Bill Ford said the project builds on their work to transform Detroit's Corktown neighborhood.
"This project is part of a new world, one where Michigan continues to disrupt and lead the world by changing the way people move and help reduce emissions, increase transportation equity, and better connect all of our communities," said Ford.
In addition to Ford, GM, Argo AI, Arrival, BMW, Honda, Toyota, TuSimple, and Waymo will also use the CAV.