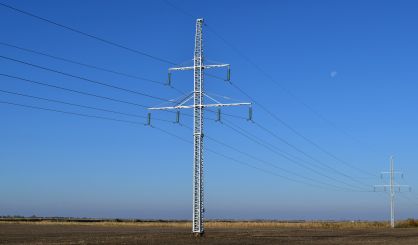 Indiana Michigan Power continues to work on restoring service to customers who lost it in Monday's storm. The company has released the following statement:
More than 900 employees of Indiana Michigan Power, other power companies and business partners are working together to restore power across I&M's service territory. Many of them are now on the ground restoring service to our customers, while others will be arriving soon at the impacted areas.
As of 5 p.m., I&M has restored power to more than half of the 51,875 customers who lost service as a result of the Monday evening derecho.
Damage has been significant, with crews finding at least 50 broken or damaged poles so far. Most damage was caused by the strong winds blowing trees and branches into energy equipment.
Significant outages occurred throughout I&M's service territory. Damage was particularly heavy in the Benton Harbor area, where winds of 66 mph were higher than other areas served by I&M. In addition, many rural areas outside of Benton Harbor have tough terrain and are difficult for crews to reach.
ESTIMATED TIMES of RESTORATION (ETRs)
I&M has set estimated times of restoration for its service territory. These are the estimated times when the last customers are expected to be restored. Power to most customers will be restored before those times. Customers who sign up for mobile alerts or check our online outage map may find earlier times have been entered by crews assigned to specific outages. See the "Stay Informed" section below.
INDIANA
Fort Wayne and Avilla area: 11 p.m. Thursday
Decatur area: 11 p.m. today
South Bend/Elkhart area: 11 p.m. Wednesday
Muncie/Marion area: 6 p.m. Wednesday
MICHIGAN
Benton Harbor area: 11 p.m. Friday
Buchanan area: 11 p.m. Wednesday
Three Rivers area: 11 p.m. Wednesday
Indiana total customers: 7,000

Fort Wayne area: 3,900
South Bend area: 2,900
Muncie area: 150
Michigan total customers: 14,800

Benton Harbor area: 13,600
Buchanan area: 675
Three Rivers area: 500
STAY INFORMED
I&M encourages customers to use the Indiana Michigan Power app to monitor the status of any outage affecting your home or business. IndianaMichiganPower.com/App
You can sign up for text and email alerts on the app or at IndianaMichiganPower.com/Alerts
See the location and status of outages using our outage map at IndianaMichiganPower.com/OutageMap
For the latest updates please follow Indiana Michigan Power on Facebook and find us on Twitter @IN_MI_Power
SAFETY