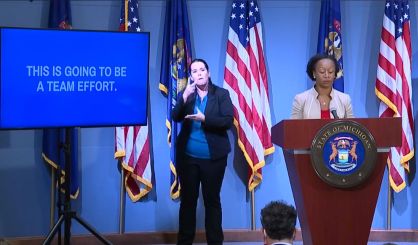 There were 891 additional cases of COVID-19 reported in Michigan for Wednesday. That's the highest daily number since May. Dr. Joneigh Khaldun, Michigan's chief medical executive, said during a Wednesday conference the new cases aren't just because of increased testing. She said the percentage of tests that come back positive last week was 2.8%, while this week it's been 3.4%.
"This is an indicator that there is ongoing spread of the disease, and we're not simply seeing more cases just because we are doing increased testing," Khaldun said.
Khaldun, like everyone at the governor's Wednesday press conference, urged Michiganders to wear their masks.
"We're seeing out breaks in multiple settings, including bars, churches, offices, gyms, long-term care facilities, weddings, family dinners, parties. People are gathering."
Khaldun said an ongoing challenge for state contact tracers is people who don't answer their phones when a tracer tries to reach them. She asks everyone who gets a call from their local health department to answer.