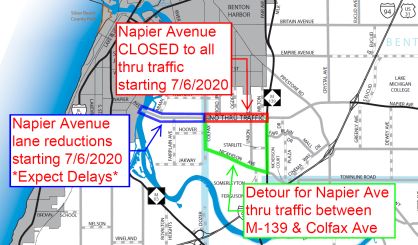 There's a whole lot of work planned for Napier Avenue in the coming month. Berrien County Road Department Director Jason Latham tells WSJM News there will be two projects starting Monday. The first is the long-awaited reconstruction of Napier from the St. Joseph River to Colfax. The work will have the road reduced to one lane in each direction for about a month. Latham says when the road is reopened, it will have been placed on a diet, reduced to three lanes.
"We're going to re-stripe it to three lanes, pretty much between Miami and Colfax, but the intersections before and after Miami are going to be the same, and the intersection with Colfax, before and after, is going to be the same," Latham said. "That way, you'll have your left turn lanes, you'll have your center turn lanes, right turn lanes, those kinds of things are all going to be the same."
Latham says having a center turn lane will improve safety, and he'll report back to the county on how the diet's worked out at a later time. Meanwhile, as Napier is repaved from the river to Colfax, Benton Township will be doing a water project on Napier from Colfax to M-139. Latham says that will close the road to through traffic starting next week.
"You'll be able to get to your house still. They'll allow that, but through traffic, if you're heading into St. Joe from M-139, we ask that you take the detour so the township can complete that work."
Access to businesses will also be allowed. The detour will be down Nickerson. The project is expected to take about a week.