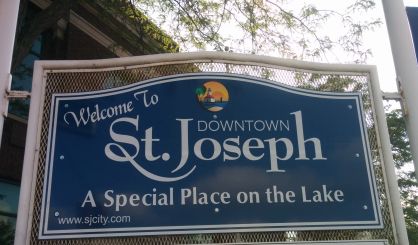 The St. Joseph Department of Public Safety has offered an explanation for why some downtown businesses closed last Sunday while a peace march against racism was held across the river in Benton Harbor. During Monday's St. Joe City Commission meeting, Public Safety Director Steve Neubecker said police warned businesses about some information they were getting on social media.
"Last Sunday I was contacted numerous times by Michigan State Police and the Berrien County Sheriff's Department, who were monitoring traffic on social media by people who were making plans to damage downtown business and public buildings in St. Joseph," Neubecker said. "This had absolutely nothing to do with the peaceful march in Benton Harbor. I attended that march with Chief McGinnis and Sheriff Bailey also."
Neubecker said the difficult decision was made to pass along the warning from the sheriff's department and state police. He noted there were common reports of violence taking place during rallies at that time, which heightened concerns. City Manager John Hodgson also stressed the social media chatter last weekend had nothing to do with the march in Benton Harbor.