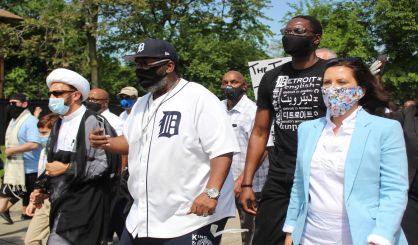 Governor Gretchen Whitmer and Lieutenant Governor Garlin Gilchrist took part in a civil rights march in Detroit on Thursday. The moves came a day after Whitmer announced her support for a series of policy plans for police reform in Michigan, calling on Michigan law enforcement agencies to enhance their training and policies to help create a police culture where all Michiganders are treated with dignity and respect under the law. The Michigan Senate on Thursday unanimously approved legislation that would require police to be trained on implicit bias and de-escalation techniques to minimize the use of force. Thursday's vote came more than a week after the
death of George Floyd in Minneapolis, which has sparked nationwide protests. The legislation would also mandate, starting in 2022, that officers complete annual continuing education. Michigan is among six states without such a requirement, according to a 2017 report. The measure, which was passed just a week after its introduction, was sent to the House for further consideration.
The Associated Press contributed to this report.