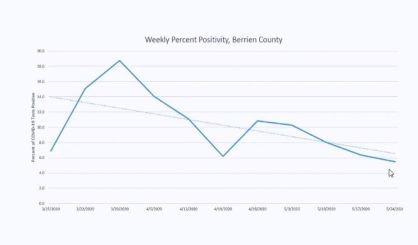 Berrien County is in a relatively good position when it comes to COVID-19 as the state starts to reopen. That's the view of Berrien County Health Officer Nicki Britten, who presented a weekly COVID update to the Berrien County Board of Commissioners on Thursday. She says while tests are still not unlimited in the area, the capacity has greatly improved.
"We're seeing a lot more tests being done, and our percent positive is continuing to decrease," Britten said.
That's a key number health officials are watching. Britten also said as the weather warms up and people venture outside, the numbers have looked stable.
"I do know that on Memorial Day weekend our beaches were packed, and that was ten or eleven days ago. I know a lot of those folks were out of state residents and so we would not see their diagnosis, but we haven't seen that blip that you might have expected from all of the Memorial Day weekend activity."
Britten said as the county reopens, it becomes the health department's job to enforce social distancing rules at restaurants, and they're talking about how to do that now. Looking at recent COVID numbers, Britten said they're showing general improvement, and she encourages everyone to continue social distancing.