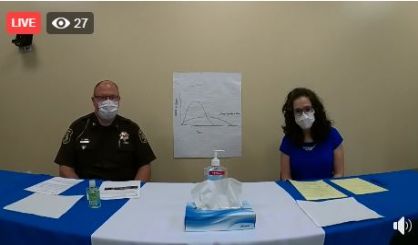 The Berrien County Health Department is seeing the number of COVID-19 cases continue to go up. However, Berrien County Health Officer Nicki Britten says there's good news.
"The good news is that our percent positive rate is decreasing, and this is another really important marker."
Britten said during a Friday update there is a reason why the cases keep rising.
"Part of the reason for that it we're doing more testing. We're doing more testing of the general public, but we're also doing some more testing in congregate facilities, even like the jail."
Britten said many of the county's cases and deaths have been in nursing homes.
"People who are very vulnerable to serious illness and even death from a COVID infection that are living in relatively close quarters, it's easier for transmission to occur and to have some pretty devastating results."
Heading into Memorial Day weekend, Britten said it's important for everyone to social distance and to wear face coverings if they are getting together in small groups. She noted the main way coronavirus spreads is through close contact with another person, like a face to face conversation, for ten minutes or more. She stressed the need to avoid that sort of contact.