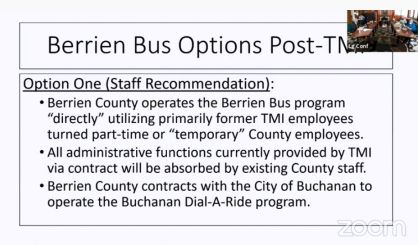 The Berrien County Board of Commissioners has some big decisions to make when it comes to Berrien Bus. Berrien County Transportation Coordinator Evan Smith addressed the board on Thursday, saying Transportation Management Incorporated, which is responsible for Berrien Bus operations, is closing at the end of June.
"I know this is a little alarming, it was certainly alarming to us," Smith said. "I want to stress that TMI's deciswion is not an indication of the financial impact of the COVID-19 pandemic on Berrien Bus operations."
Smith says he thinks TMI was going to close its doors anyway. However, with the organization folding, Berrien Bus will have to make changes so it can continue functioning. One possibility is Berrien Bus hiring some of TMI's staff and no longer contracting operations out, at least temporarily. The county board will discuss the issue more next week. As far as COVID-19, Smith said it's left Berrien Bus running bare bones routes with ridership at about 25% of capacity in April. The finances have held up, though.
"Strictly financially speaking, the response from the federal government, I think, is really going to outweigh the financial shortcomings that are created."
Smith said costs have also gone down. He does anticipate dipping into the fund balance of Berrien Bus this year.