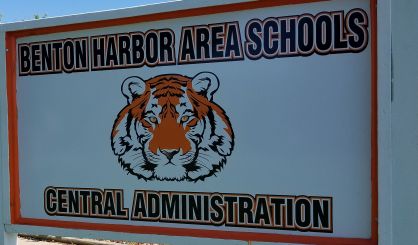 It'll be at least another week before the Benton Harbor Area Schools Board of Education votes on the district turnaround plan drafted by its Community Engagement and Advisory Committee. The board was set to vote on the plan during a virtual meeting Tuesday, but it was noted trustees and Superintendent Andrae Townsel have made adjustments to the committee's recommendations. Townsel cited an example.
"Them saying establish a parent academy," Townsel said. "We do know we have school improvement plans, and we have already started developing family and community engagement. So we say let's continue to develop all aspects of parent engagement requirements, including implementation of the My Family framework."
The board also made some changes to the plan. For that reason, Trustee Dashuna Robinson felt there should be more time before a final vote.
"This is a major step that we're making as a district and a major responsibility that we're taking as board members, and so I do think it's wise for us to make sure the community is aware of the adjustments that we're making."
The Community Engagement and Advisory Committee released its recommendations this month after holding several meetings since October. The committee studied the school district's finances, academics, and facilities, among other things. Its recommendations include requesting forgiveness of outstanding emergency loans, eliminating unnecessary buildings, and a business office evaluation. Board President Joseph Taylor said the changes made to the turnaround plan will be posted to the district's website, and then another meeting will be held next week. He noted the board does have to get this done by May.