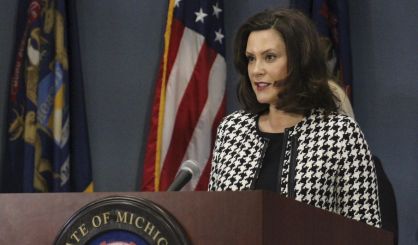 Another protest of Governor Gretchen Whitmer's "Stay Home, Stay Safe" order is planned for this week around the Capitol. Last week, thousands drove in from all over the state, and some left their vehicles and gathered in close proximity to each other on the Capitol lawn, violating social distancing guidelines. Whitmer says those actions compromised the health of people around Michigan.
"We are watching different parts of rural Michigan because the numbers are going up," Whitmer said at Monday's briefing. "So every time something like this happens, it raises the risk that that's going to continue to be a problem."
She is calling on people to find different ways to protest the actions she's taken to keep others safe.
"The thought that COVID-19 might spread because of a big gathering like that is real, it's a concern. And while I respect people's right to dissent, I am worried about the health of the people of our state, and that's what's driving every decision I've made.
"I really hope that people don't continue to have these types of demonstrations," Whitmer continued. "I respect the First Amendment and the right to speak your truth and dissent and criticize your government, that's fine. But doing so in a way that is irresponsible and endangers others is not."
The current "Stay Home, Stay Safe" order is due to expire next week, and Whitmer says she will have plans to start slowly reopening parts of the state's economy this week.