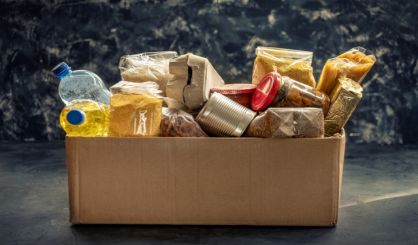 Boxes of food are being delivered to senior citizens around southwest Michigan thanks to a state program and the Region IV Area Agency on Aging. The agency's Christine Vanlandingham tells WSJM News the state has bought 10,000 Quarantine Boxes, also known as Q Boxes, to get out to seniors who are sheltering in place during the COVID-19 pandemic. Each box contains non-perishable food that could be used to prepare 22 meals.
"There's fruit, there's protein such as chicken or tuna and peanut butter, there's pasta, vegetables, and beans and rice and oats," Vanlandingham said. "It just goes on and one, but it's all shelf-stable."
The Area Agency on Aging and the United Way of Southwest Michigan will deliver the boxes to seniors in Berrien, Cass, and Van Buren counties starting the week of May 4. There will also be pick-up locations. Vanlandingham says they need some help.
"The United Way is working through their volunteer portal, and we absolutely need people to help us do this. We need volunteers both to deliver to people's homes and for the drive-thru pick up."
Seniors can start signing up to receive the Q Boxes this Thursday. The Area Agency on Aging is also looking for volunteers to help deliver the boxes. We have the information for delivering and signing up for them below.
If you are a senior, or know a senior, who would be helped by a Q-Box, United Way of Southwest Michigan will begin accepting calls on April 23rd to sign up for one. The number to call is 269-982-4029. Food pick up times and locations will be given to the seniors the week of May 4th.
To sign up to volunteer to help distribute boxes, visit volunteer.uwsm.org. All volunteers will receive a background check prior to being assigned. For more information or questions for Area Agency on Aging email Christine Vanlandingham at cvanlandingham@areaagencyonaging.org