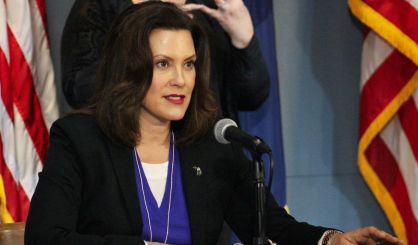 Governor Whitmer has signed an executive order creating the Michigan Coronavirus Task Force on Racial Disparities. Lieutenant Governor Garlin Gilchrist will chair the new panel.
"This disease, this infection, has proved particularly deadly to black people in our state," said Gilchrist. "Black people make up 14% of the population of the state of Michigan, and thus far, we have accounted for 40% of the deaths. We only know this because the state of Michigan was one of the first, and remains one of the few states, to report its COVID-19 test results and deaths along racial lines."
Whitmer says there have been "heartbreaking" stories out of Detroit with the impact of coronavirus on minorities.
"The deep inequities people in communities of color face, like basic lack of access to healthcare, or transportation, or protections in the workplace, have made them more susceptible to COVID-19," said Whitmer.
The governor opened Monday's briefing talking about five-year-old Skylar Herbert of Detroit, who this weekend became the first child in the state to die from COVID-19. Herbert's mother is a Detroit police officer, and her father is a Detroit firefighter.