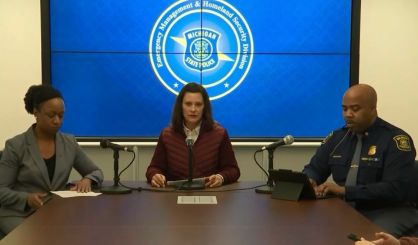 Governor Gretchen Whitmer is expected to announce a "stay at home" order during 11 a.m. press conference according to the Detroit Free Press and MIRS News. Illinois and Ohio have already done so. The Michigan Chamber of Commerce and other business organizations had opposed the shutdown, but Chamber CEO Rich Studley and the others spent time meeting with the governor over the weekend about the coronavirus pandemic.
"Our view is that the governor has taken very proactive and measured steps, and we will continue to work with the governor's office to do our very best to help all Michiganders get through this difficult situation together," Studley told the Michigan News Network.
Studley says the coronavirus pandemic has been an evolving situation, and the Chamber will be prepared to move forward. When asked Friday about a "stay at home" order, Whitmer said she'd been talking to other states, but Michigan "wasn't there yet," but left the possibility open.