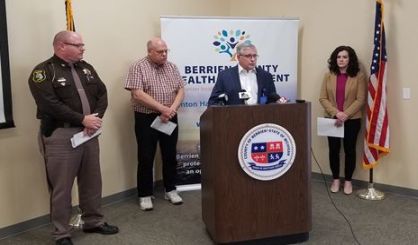 The Berrien County Health Department is working to prevent further transmission of COVID-19 after the county's first two cases were identified on Saturday. The first two positives are adult women under the age of 60 who attended a concert at Andrews University on March 8. The performer, singer Sandi Patty, announced this week she's been diagnosed with COVID-19. At a press conference on Saturday, Berrien County Medical Director Rick Johansen said things moved quickly from there.
"We heard from Andrews immediately when this event happened that there was the exposure, and within two days we had already identified four cases that were significant contacts, got them to appear at the drive-thru testing site at Lakeland," Johansen said.
Of the four initially tested, two came back positive and two negative. Berrien County Health Officer Nicki Britten says the two women who came back positive had been at a VIP meet and greet with Sandi Patty after the March 8 show and had contact with her.
"All of the close contacts of the COVID-19 positive individuals will be asked to self-quarantine and will be assessed for symptoms and monitored appropriately," Britten said. "This contact tracing will help ensure that other individuals at risk of contracting COVID-19 are able to stay home and prevent further transmission of the virus."
Britten said the two women are self-isolating and doing well. Health officials are advising anyone who attended the March 8 Sandi Patty concert and had close personal contact with Patty to self-quarantine and monitor themselves for symptoms of COVID-19 through Sunday. Meanwhile, Spectrum Health Lakeland President Loren Hamel said Saturday the hospital now has the ability to test for COVID-19, although tests remain in short supply. So how many tests does it have?
"Not enough," Hamel said. "Not across the country, not across the state. We're doing everything we can to make sure we have an adequate supply, not only now but for the future. But those tests are in short supply across the country."
Johansen addressed the question of how many people in Berrien County have so far been tested.
"The governor has asked that not to be announced," Johansen said. "Obviously, we keep track of it. But I would say that the steps that have been done that have been really important are as we've had some people, like travelers initially, if they were sick, we were able to test them for other viruses. And almost every time we found some other virus like the flu or something else."
Health officials reiterate it's important for everyone to take seriously the guidelines being issued. Stay six feet away from others, don't cough in the open, frequently wash your hands, and stay home if sick. Hamel stressed that if you do feel sick, call your doctor first. Spectrum Health Lakeland is also offering free virtual COVID-19 screenings to everyone. You can find out more at SpectrumHealth.org/COVID19.