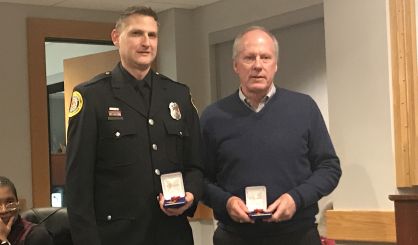 Three people now have Life Saving Awards from the St. Joseph Department of Public Safety. Deputy Director Steve Neubecker on Monday presented the first two to Mayor Mike Garey and Christopher Martin for their response when they witnessed a man crash his vehicle on the Blossomland Bridge last October 25. They found the man slumped over the wheel and not breathing, and broke out the window to pull him out and perform CPR.
"The unresponsive male was transported to Spectrum Health Lakeland and made a full recovery after suffering a heart attack," said Neubecker. "Mr. Martin and Mr. Garey saved this man's life and went above and beyond to assist a person in need."
Also honored was Vedette Cordes, who witnessed a skateboarder lose control on the Park Street hill in July 2018 and crash into the window of Outpost Sports. She grabbed her first aid kit from the car and quickly created a tourniquet out of a bungee cord and worked to slow the bleeding from several cuts. Neubecker surprised Cordes by having that young man, Jaden Smith, at the St. Joseph City Commission meeting to personally thank her with a bouquet of flowers and a hug, prompting a standing ovation.
Watch our website for video on Tuesday featuring the emotional reunion between Vedette Cordes and Jaden Smith.