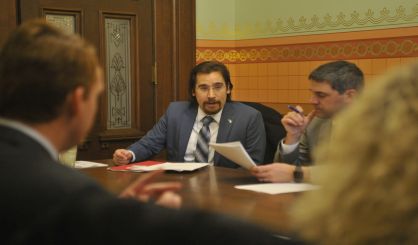 State Representative Brad Paquette this week led a round table discussion with other Michigan lawmakers on the shoreline erosion problem being experienced around the Great Lakes. Paquette tells WSJM News about a dozen members of the state House took part.
"I heard a lot of my colleagues having ideas and they were kind of working on them by themselves, and so we thought it would be best to get our powers combined to find out what it is we could all put our weight behind," Paquette said.
Paquette says the group wants to form a task force to talk with the various legislative committees as they seek help. He has some ideas.
"Allowing property owners to be able to have streamlined processes through EGLE to acquire permits to protect their own property, and even calling on the governor to call out Canada because they've been dumping millions of gallons of water into the basin there."
Paquette says he also wants to make sure a property owner's taxes don't go up as a result of actions they take to protect their land from the lake. He notes even state lawmakers from inland areas are concerned, and he looks forward to finding additional help for shoreline homeowners.