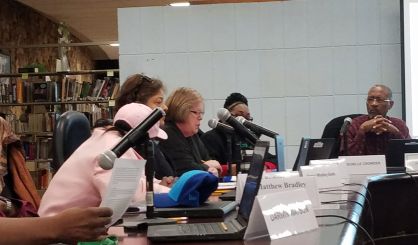 Benton Harbor Area Schools Board of Education Trustee Patricia Rush is resigning. At Tuesday's school board meeting, Rush said she ran for the board in 2018 because of her commitment to social justice, and upon being seated, threw herself into understanding the intricacies of school operations. However, she said she doesn't see how she can move forward with the way she's been treated lately by Board President Joseph Taylor.
"I feel President Taylor has created a hostile work environment for me," Rush said. "He has repeatedly attacked me, attacked other people on the district administration."
Rush says in a written statement that Taylor this week "essentially accused me of trespassing on school property when I came to district offices to meet with the finance staff and consultants to work on the deficit, the budget, and increasing teacher salaries." She told us later her resignation will be effective on March 1 unless there are serious changes. For his part, Taylor said "I'm sorry for stating my opinion about board members overreaching." He said he is just following policy. Rush promised to submit a transition report before her exit from the board.