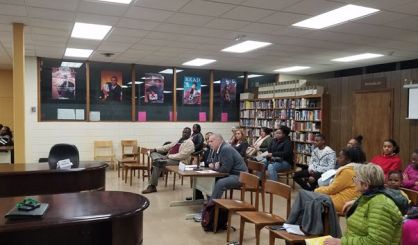 The Benton Harbor Area Schools Board of Education has received a report on last week's incident involving district cheerleaders as they left a basketball game in Battle Creek. Following the Tiger victory over Battle Creek Central, the Benton Harbor cheerleaders and their coach allege they were harassed and attacked while walking out to their bus. At Tuesday's school board meeting, Benton Harbor Interim Superintendent Robinson said Battle Creek Central is a longtime rival of Benton Harbor, and in the future, more will be done to protect the athletes when they go to these rival games.
"As we move forward and we are sending our kids away to other districts, we are going to ensure that we have our staff, have security staff with them as they go," Robinson said. "We want to make sure that they are protected, and so in order to do that we have to ensure that we have people in place on our end that travel with them."
Benton Harbor Athletic Director Michael VanHoven said more could also be done to ensure the cheerleaders use an exit away from the crowds when they're leaving games. Robinson said the video she has seen from that evening doesn't seem to corroborate claims by the cheerleaders that things were thrown at them. She said most of the incident appears to have been verbal. Benton Harbor High School Principal Reedell Holmes said more professional development will be given to coaches, and the athletes will receive sportsmanship development.
Pictured: Benton Harbor Area Schools Athletic Director Michael VanHoven speaks to the school board.