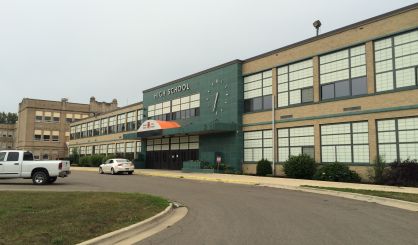 There's a good chance this will be brought up at tonight's Benton Harbor Area Schools Board of Education meeting. High school cheerleading coach Ronnella Booker says her squad was attacked by Battle Creek Central High School fans last week while walking to their bus after the boys basketball game. Booker tells our partners at WSBT-22 they didn't feel safe from the time they arrived in Battle Creek.
"We were booed. The athletic director from Battle Creek did not control his crowd, did not tell them to stop," says Booker. "As we were going out the door, water bottles full of water were being thrown, trash, all kinds of stuff. My girls were being hit. I'm human. They're human. They started fighting back."
Booker goes on to say "we were totally outnumbered. We were attacked."
Interim Benton Harbor superintendent Patricia Robinson has released a statement, saying student safety is their top priority and adding "based on security camera footage and discussions with staff and police officers who were present, there is no evidence that physical altercations or attacks took place."
The basketball team was escorted to and from their bus and had no issues. Cellphone video of the fight has been posted online. Battle Creek Police tell WSBT the school resource officer from the high school did not report any incidents. The Tigers won the game, beating the rival Bearcats 81-52.
This story has been updated to include the statement from interim BHAS superintendent Patricia Robinson.