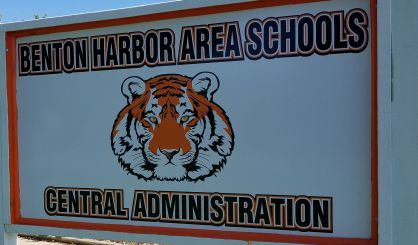 The Benton Harbor Area Schools Board of Education has approved a contract for new Superintendent Andrae Townsel. The board voted on the agreement this week with Townsel in attendance. He then sat in with the body for the rest of its meeting on Tuesday. Townsel comes to Benton Harbor from the Detroit area, where he is currently assistant superintendent at Wayne-Westland Community Schools. He tells WSJM News he'll start February 17, and plans to hit the ground running.
"First an foremost is to just listen, learn, go on a tour, visit the students, visit our classrooms, visit our educational leaders, and understand what's worked in Benton Harbor to build on those successes and identify what those deficits are," Townsel said.
Townsel said he plans to work closely with Patricia Robinson as his assistant superintendent, and also with the Community Engagement and Advisory Committee. He's optimist about working with the board
"I really have complete confidence in the board of education. I think they have complete confidence in me as well, and  just keeping them in the loop. They're a governing body, and the superintendent is the managing body, and just understanding that boundary and that balance, and working collaboratively. I think it's going to be a team approach and a team effort."
Trustee Matthew Bradley agrees. Bradley talked with the board Tuesday about the importance of letting Townsel do his work.
"Just making sure that we call come to the table with an open mind, and making sure that if we disagree behind the scenes that we come out together as an open front, making sure that we have a united voice for our students."
Townsel told us he'd like to find a home in the city of Benton Harbor as he moves into his new role. His salary will be $168,000, and the contract is for four years. Also Tuesday, the board voted to keep Joseph Taylor as its president. He edged out Patricia Rush for the position, four to three.