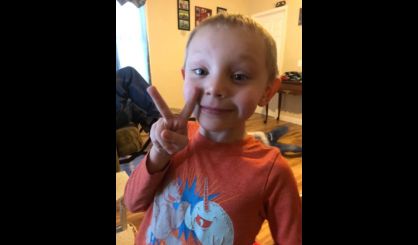 The search for a missing five-year-old boy with autism in Montcalm County has come to a sad end. Michigan State Police Lieutenant David Cope says they found the body of Beau Belson under the ice in a pond next to the home of his grandmother today.
"There were some personnel checking on top of the ice (Wednesday night), but there was no one ice certified who could check under the ice until our Marine Services Team arrived," said Cope.
Belson disappeared while playing outside on Christmas Day, and about 1,000 volunteers turned out late in the afternoon Wednesday to try to find him. Michigan State Police used drones, a helicopter, and sonar equipment during the search for the boy. Several hundred volunteers came out Thursday morning to keep looking for Belson before he was found.