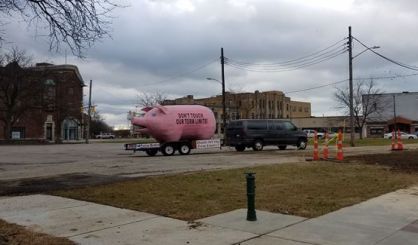 A group hoping to pressure Michigan lawmakers into not loosening the state's term limit laws brought its message to the Benton Harbor-St. Joseph area on Wednesday. Scott Tillman, the Michigan coordinator for Don't Touch Term Limits, tells WSJM News they are getting attention by bringing around a giant statue of a pig.
"The hog is a message to let people know that the legislators are trying to increase their time at the trough," Tillman said. "The people love term limits. We've polled on it recently. Back in 1992 when we passed it, it passed with 59% of the vote. We polled at the end of October and asked if people want it to stay the same, if they want it to change, or do they want to get rid of term limits altogether. 69% of people, 10% more than passed it in 1992, say they want it to stay the same as it is now".
The 10 foot tall, 18 foot long pig was in Coloma and Watervliet early on Wednesday, and then in Benton Harbor and St. Joseph later in the day. Tillman says his group wants people to contact their state lawmakers to ask that term limits laws not be changed. Michigan voters approved term limits in 1992. The giant "Don't touch our term limits" pig was to be in Southfield next.