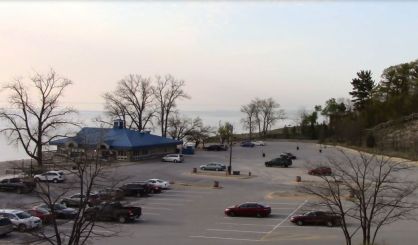 The city of Bridgman is taking action to protect its beach house at Weko Beach from the high water level on Lake Michigan. Bridgman Parks and Recreation Director Milo Root tells WSJM News they're going to put out sandbags this weekend to keep the water away from the house's lower levels. The water has come close to threatening the structure.
"If water levels continue to rise like they have during the past couple of years, we could reach a point where the water is actually encroaching and breaches the beach house itself," Root said. "It's encroaching upon it now as we speak. The water level has risen to a point where it sits about 100 feet from the beach house in calm conditions."
On high winds days, Root says the water is getting to around 25 feet of the beach house. So, the plan is to erect a sand bag wall this Saturday to protect it. The U.S. Army Corps of Engineers provided the city with 1,000 bags, and Root says volunteers are needed. He's asking people to show up at 10 a.m. Saturday with gloves and a shovel. The city has twice in the past protected the beach house with sand bags. Once was in the 1940s, and then they did it again in the 1980s.