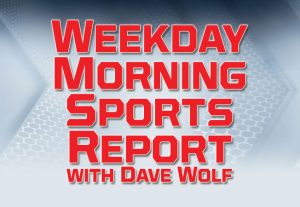 NFL – National Football League – Week 11
Yesterday
Dallas Cowboys 34, Detroit Lions 27
Los Angeles Rams 17, Chicago Bears 7
Indianapolis Colts 33, Jacksonville Jaguars 13
Cowboys 34, Lions 27 – Cowboys get huge day from Prescott, beat Lions 35-27
Dak Prescott threw for 444 yards and three touchdowns, lifting the Dallas Cowboys to a 35-27 win over the Detroit Lions on Sunday.  The Cowboys (6-4) have won three of four games, leaning on the league's top offense.  Dallas has had balance with the ball, but Prescott was passing with such ease that it wasn't necessary to try to move the ball much on the ground in the Motor City.  The Lions (3-6-1) were without Matthew Stafford for a second straight game and have lost six of seven.  Stafford's backup, Jeff Driskel, played well enough to give his team a shot to compete. He threw a 25-yard yard TD pass to Marvin Jones with 5:49 left to pull Detroit within eight points.  Driskel was 15 of 26 for 209 with two TDs passing and a rushing score.
Rams 17, Bears 7 – Gurley, Brown help Rams ground out 17-7 win over Bears
Todd Gurley and Malcolm Brown ran for touchdowns and the Los Angeles Rams were able to ground out a 17-7 victory over the Chicago Bears on Sunday night.  Gurley tied a season high with 97 yards on 25 carries, scoring on a 1-yard carry up the middle with 3:28 remaining in the first half to extend Los Angeles' lead to 10-0.  After Tarik Cohen's third-quarter touchdown catch brought Chicago to 10-7, the Rams (6-4) put it out of reach with 3:35 remaining in the fourth quarter on Brown's 5-yard run.  Jared Goff was 11 of 18 for 173 yards and an interception. That is the least attempts the fourth-year quarterback has had when he has started. Cooper Kupp was the Rams' only active starting receiver, which might explain why the Rams relied more on their ground game. The Bears (4-6) ran 22 more plays than the Rams but averaged only 3.6 yards. Mitchell Trubisky was 24 of 43 for 190 yards with a touchdown and interception. Chase Daniel replaced Trubisky for the final series.  The Bears drove inside the Rams 35 on their first three series but had nothing to show for it. Eddy Piñeiro missed 48- and 47-yard field goal attempts and Chicago turned it over on downs on the second series.
Colts 33, Jaguars 13 – Colts overpower Jaguars with strong ground game in 33-13 win
Jacoby Brissett threw one touchdown pass, ran for another score and used an impressive ground game to get the Indianapolis Colts back on track Sunday with a 33-13 victory over Jacksonville.  The Colts (6-4) ended a two-game losing streak and pulled back into a tie with Houston for the AFC South lead.  Jacksonville (4-6) has lost four of six, this one coming despite the return of starting quarterback Nick Foles. He had missed the previous eight games with a broken left collarbone.
Tonight
Kansas City Chiefs vs. Los Angeles Chargers, 8:15 p.m. at Mexico City    106.1 & 1400 WSJM Sports 7:30 p.m.
NASCAR – Kyle Busch wins NASCAR Cup for second time
Kyle Busch has emerged from the Joe Gibbs Racing juggernaut as NASCAR's latest champion, winning his second title after teammates Denny Hamlin and Martin Truex Jr. were slowed by pit-road gaffes.  Busch won the season finale at Homestead-Miami Speedway to snap a 21-race losing streak and beat Hamlin, Truex and rival Kevin Harvick for the Cup. Busch joined seven-time champion Jimmie Johnson as the only active drivers with multiple titles.  Busch is the 16th driver in NASCAR history to win multiple championships, and one of only five to win titles in both the Cup Series and the second-tier Xfinity Series.  Truex dominated early but fell a lap back after his crew put tires on the wrong side of his Toyota. Hamlin fell out of contention when a crew member placed a large piece of tape across the front of his car, causing his engine to overheat leading to an unscheduled pit stop. Truex recovered to finish second, but Hamlin didn't have enough time to overcome the miscue and was a disappointing 10th.  Harvick never seemed to be a solid contender despite his fourth-place finish.
NHL – National Hockey League
Last Night
Chicago Blackhawks 4, Buffalo Sabres 1
Blackhawks 4, Sabres 1 – Kane, Dach lead Blackhawks past Sabres 4-1
Patrick Kane extended his goal-scoring streak to six games, and the Chicago Blackhawks beat the Buffalo Sabres 4-1 on Sunday night for their fourth straight victory.  Kirby Dach scored twice as the resurgent Blackhawks improved to 6-1-1 in their last eight games. Jonathan Toews added his fourth of the season, and Corey Crawford made 33 saves.  Kane won a battle with Buffalo defenseman Marco Scandella for a loose puck during a third-period power play, and then beat Carter Hutton on the glove side for his team-best 11th goal. The star forward has eight goals and nine assists during a nine-game point streak. Jack Eichel scored his fifth goal in two days, but banged-up Buffalo lost for the seventh time in eight games. Eichel had four goals in the Sabres' 4-2 victory over Ottawa on Saturday.
NBA – National Basketball Association
Tonight
Indiana at Brooklyn, 7:30 p.m.
Milwaukee at Chicago, 8:00 p.m. p.m.
NCAAMBB – Men's College Basketball
Tonight
Charleston Southern at (3) Michigan State, 6:30 p.m.       Superhits 103.7 Cosy-FM, 5:30
Presbyterian at Notre Dame, 7:00 p.m.
Siena Heights at Central Michigan, 7:00 p.m.
NCAAWBB – Women's College Basketball
Yesterday
Western Kentucky 93, Central Michigan 58
AP Football Top 25

1

LSU (54)

10-0

2

Ohio State (5)

10-0

3

Clemson (3)

11-0

4

Georgia

9-1

5

Alabama

9-1

6

Oregon

9-1

7

Utah

9-1

8

Oklahoma

9-1

9

Penn State

9-1

10

Florida

9-2

11

Minnesota

9-1

12

Michigan

8-2

13

Baylor

9-1

14

Wisconsin

8-2

15

Notre Dame

8-2

16

Auburn

7-3

17

Cincinnati

9-1

18

Memphis

9-1

19

Iowa

7-3

20

Boise State

9-1

21

SMU

9-1

22

Oklahoma State

7-3

23

Appalachian State

9-1

24

Texas A&M

7-3

25

Virginia Tech

7-3
NCAAFB – Georgia moves past Alabama, LSU still No. 1
The top three teams remain the same in the newest Associated Press college football poll, but Georgia has climbed past Alabama for the fourth spot. The Bulldogs moved up with their 21-14 win at Auburn, hours after the Crimson Tide lost star quarterback Tua Tagovailoa to a season-ending hip dislocation. Top-ranked LSU picked up 54 of 65 first-place votes to stay ahead of No. 2 Ohio State and defending-champion Clemson.  The fifth-ranked Tide are followed by Oregon, Utah, Oklahoma, Penn State and Florida.
NCAAFB – NCAA Division II Playoffs
Ferris State (10-0), gets a 1st round bye and will host winner of Indianapolis (9-1) vs. Central Missouri (10-1) on November 30.
NCAAFB – NCAA Division III Playoffs
Hope College (9-1), will host Wartburg College (Iowa) on Saturday at Ray and Sue Smith Stadium in Holland.
AHL – American Hockey League
Last Night
Chicago Wolves 4, Iowa Wild 3
CFL – Canadian Football League – Semifinals
Yesterday
Hamilton Tiger-Cats 36, Edmonton Eskimos 16
Winnipeg Blue Bombers 20, Saskatchewan Roughriders 13