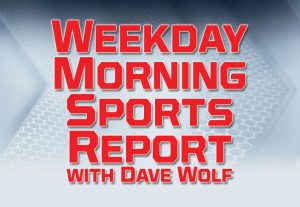 NCAAMBB – Men's College Basketball
Tonight
Michigan 79, Creighton 69
Notre Dame 79, Howard 50
Western Michigan 91, Mississippi Valley State 81
Eastern Michigan 101, Goshen College 49
UPSET – Evansville 67, (1) Kentucky 64
Michigan 79, Creighton 69 – Strong second half lifts Michigan past Creighton 79-69
Zavier Simpson had 17 points and nine assists, and Michigan passed its first significant test under new coach Juwan Howard, beating Creighton 79-69 on Tuesday night.  Isaiah Livers scored 22 points for the Wolverines, who shot well early on and showed enough grit late to outlast the Bluejays. Creighton (1-1) had 18 offensive rebounds to Michigan's four, but that wasn't enough on a night when the Wolverines (2-0) shot 57% from the field. Michigan was 7 of 16 from 3-point range in the first half but still trailed 41-38 after 20 minutes. The Wolverines held Creighton to 28 points in the second.  Ty-Shon Alexander led Creighton with 20 points.
Notre Dame 79, Howard 50 – Mooney's 18 points help Notre Dame power past Howard, 79-50
John Mooney powered for game highs of 18 points, 16 rebounds and five assists as Notre Dame rolled to a 79-50 victory over Howard in the first-ever meeting between the schools Tuesday night. Juwan Durham and Dane Goodwin added 11 points apiece for the Fighting Irish (2-1), who jumped out to a 7-0 lead and were never threatened. Freshman Wayne Bristol Jr. was the only double-digit scorer for the Bison (0-3) with 14 points. Notre Dame shot 51% from the field.
WMU 91, MVSU 81 – Johnson has 20 points, W. Michigan tops Miss. Valley St.
Brandon Johnson had 20 points and nine rebounds to help Western Michigan beat Mississippi Valley State 91-81 on Tuesday night to start the season 3-0.  Michael Flowers added 18 points and five assists with Chase Barrs chipping in 17 points on 6-of-7 shooting from the floor.  Western Michigan was up 44-32 at the half. Mississippi Valley State closed to 53-49 after Richard Rivers Jr. drained a 3 with 13:20 remaining in the game. Johnson quickly responded with two straight layups and Barrs added another to help the Broncos pull away to a 59-49 advantage. 
EMU 101, Goshen 49 – Groce, Barnes carry Eastern Michigan past Goshen 101-49
Ty Groce had 19 points to lead six Eastern Michigan players in double figures as the Eagles romped past Goshen 101-49 on Tuesday night.  Chris Barnes added 16 points for the Eagles. Yeikson Montero chipped in 14, Chris James scored 11 and Boubacar Toure had 11. Barnes also had five steals for the Eagles, while James posted seven rebounds. It was the first time this season Eastern Michigan scored at least 100 points. Tajh Curry had 10 points for the Maple Leafs.
NHL – National Hockey League
Last Night
Detroit Red Wings 4, Anaheim Ducks 3 – OT
Red Wings 4, Ducks 3 – OT – Cholowski scores in OT, Red Wings rally past Ducks 4-3
Dylan Larkin scored the tying goal during a 6-on-3 advantage with 37 seconds left in regulation, and Dennis Cholowski scored with 2:56 on the clock in overtime to send the Detroit Red Wings to their third straight victory, 4-3 over the Anaheim Ducks on Tuesday night.  After Ducks defensemen Brendan Guhle and Korbinian Holzer took penalties 21 seconds apart in the waning moments of regulation, Larkin scored from a sharp angle while the Red Wings had three extra skaters on the ice with their goalie pulled.  Cholowski then got his second goal of the season on a long shot past Ryan Miller, who made 32 saves for Anaheim.  Filip Hronek and Andreas Athanasiou scored in the second period for the Red Wings, and Jonathan Bernier stopped 24 shots against his former team.  Detroit has its first three-game winning streak this season after winning for just the fourth time in 16 games.
Tonight
Chicago Blackhawks at Vegas Golden Knights, 10:00 p.m.
NBA – National Basketball Association
Last Night
Miami Heat 117, Detroit Pistons 108
Indiana Pacers 111, Oklahoma City Thunder 85
Chicago Bulls 120, New York Knicks 102
Heat 117, Pistons 108 – Butler scores 20, Heat hang on to beat Pistons 117-108
Jimmy Butler scored 11 of his 20 points in the fourth quarter, added 13 assists and the Miami Heat wasted most of what was a 29-point lead before hanging on to beat the shorthanded Detroit Pistons 117-108 on Tuesday night.  Kendrick Nunn also had 20 for Miami, while Bam Adebayo scored 18 points and grabbed 14 rebounds for the Heat. Goran Dragic also had 18 points.  Miami is 7-3, matching the third-best 10-game start in Heat history.  Luke Kennard was 0 for 7 in the first half, but recovered to score 22 for Detroit. Andre Drummond had 16 points and nine rebounds before fouling out, and Christian Wood added 16 for the Pistons — who never led, but made the second half plenty interesting.
Pacers 111, Thunder 85 – Warren scores 23 to lead Pacers over Thunder 111-85
T.J. Warren scored 11 of his 23 points in the third quarter to lead the Indiana Pacers over the Oklahoma City Thunder 111-85. Malcolm Brogdon had 20 points, six rebounds and five assists, and Domantas Sabonis had 18 points and 16 rebounds for the surging Pacers, who have won seven of eight, including four straight. Danilo Gallinari scored 14 points, Deonte Burton had 13 points and Shai Gilgeous-Alexander had 11 points and six rebounds for the Thunder.
Bulls 120, Knicks 102 – White shines as Bulls beat Knicks 120-102
Coby White made a franchise-record seven 3-pointers in the fourth quarter, and the Chicago Bulls pulled away from the slumping New York Knicks for a 120-102 victory Tuesday night.  White missed his first five shots from the field and began the final period with just four points. But the rookie guard put on a dazzling show down the stretch, delighting a United Center crowd that included Roy Williams, White's coach at the University of North Carolina. White connected from deep on three straight Chicago possessions during a 24-2 run that made it 109-89 with 5:51 remaining. Backed by chants of "Co-by! Co-by!" he made one last 3 to run the Bulls' lead out to 120-100 before checking out with 1:31 to go. White finished with 27 points. Zach LaVine had 25 for Chicago, and Wendell Carter Jr. finished with 17 points and 12 rebounds.
NCAAFB – College Football – Week 12
Last Night
Western Michigan 37, Ohio 34 (OT)
Eastern Michigan 42, Akron 14
WMU 37, Ohio 34 – OT – Bellamy's 21st rushing TD of season is OT winner for Broncos
LeVante Bellamy, the nation's leader in rushing touchdowns, scored on a 4-yard run in overtime to give Western Michigan a 37-34 victory over Ohio on Tuesday night.  Louie Zervos kicked a 37-yard field goal for Ohio (4-6, 3-3 Mid-American Conference) on the first possession in overtime before Bellamy rushed three times to cover the 25 yards and get the win. Bellamy had scored two rushing touchdowns in each of the four previous games but didn't have a score in this one until his overtime winner. He has 21 touchdowns this season. Jon Wassink threw for 322 yards and 3 touchdowns for the Broncos (7-4, 5-2), who got their first road win since Oct. 20, 2018 and took a half-game lead over Central Michigan (4-2) in the MAC's West division. Skyy Moore had four catches for 162 yards including a 61-yard score and ran 2 yards out of the wildcat for another touchdown
EMU 42, Akron 14 – Vann runs for 4 TDs in EMU's 42-14 win over Zips
Shaq Vann rushed for 142 yards and four touchdowns and Eastern Michigan beat winless Akron 42-14 on Tuesday night.  Vann became the first Eagle to score four rushing touchdowns since Bronson Hill against Toledo on Oct. 13, 2012. He scored Eastern Michigan's first three TDs when the Eagles (5-5, 2-4 Mid-American Conference) took a 21-0 halftime lead. He added his final score in the fourth quarter. He carried the ball 28 times. His longest run was a 19-yard score.  Mike Glass III was 20-of-25 passing for 246 yards and added 83 yards rushing, including a TD.
NCAAFB – Alabama 5th in CFP committee rankings after loss to LSU
Alabama is fifth in the latest College Football Playoff rankings, behind LSU, Ohio State, Clemson and Georgia, which took over the fourth spot in the selection committee's second top 25.  LSU replaced Ohio State as No. 1 after the Tigers won at Alabama on Saturday. The Buckeyes were bumped to No. 2. Clemson moved up two spots to No. 3 after two teams ahead of the Tigers lost for the first time last week, including Alabama.  The Crimson Tide fell to 46-41 to LSU and dropped two spots. Penn State, which had been No. 4, lost 31-26 at Minnesota and fell to ninth. The unbeaten Gophers jumped nine spots to eighth.  Georgia moved up two spots to give the Southeastern Conference two of the top four for the second straight week.
NFL – Colin Kaepernick plans to audition for NFL teams on Saturday
Colin Kaepernick plans to audition for NFL teams on Saturday in a private workout arranged by the league to be held in Atlanta. The exiled former Pro Bowl quarterback posted on Twitter: "I'm just getting word from my representatives that the NFL league office reached out to them about a workout in Atlanta on Saturday. I've been in shape and ready for this for 3 years, can't wait to see the head coaches and GMs on Saturday." The NFL hasn't confirmed Kaepernick's workout details. Kaepernick hasn't played since 2016 with the San Francisco 49ers. He helped start a wave of protests about social and racial injustice that season by kneeling during the national anthem at games. The NFL in February settled a collusion grievance Kaepernick and former teammate Eric Reid filed against the league. Reid now plays for the Carolina Panthers.
MLB – MLB checking after report 2017 Astros illegally stole signs
Major League Baseball has expanded its investigation into the Houston Astros after The Athletic website reported the team stole signs during home games in 2017 by using a camera positioned in center field. The report Tuesday quoted pitcher Mike Fiers, who played for the Astros that season, and three other unidentified people with the club. The Athletic said team employees or players would communicate expected pitches by banging a trash can to signal off-speed pitches.
AHL – American Hockey League
Last Night
Grand Rapids Griffins 4, Cleveland Monsters 2
MHSAA – High School Athletics
Last Night
Girls Volleyball – Regional Semifinals
Division 1 at Battle Creek Lakeview
Jackson Northwest 3, St. John's 1
Mattawan 3, Gull Lake 0
Division 2 at Otsego
Edwardsburg 3, Vicksburg 0
Hamilton 3, Paw Paw 0
Division 3 at Schoolcraft
Brandywine 3, Gobles 0
Schoolcraft 3, Bronson 0
Division 4 at Martin
Mendon 3, New Buffalo 0
Battle Creek St. Philip 3, Muskegon Catholic Central 0