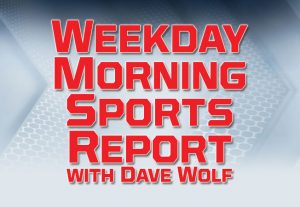 NFL – National Football League – Week 10
Last Night
Oakland Raiders 26, Los Angeles Chargers 24
Raiders 26, Chargers 24 – Raiders rally past Chargers
Josh Jacobs scored on an 18-yard run with 1:02 remaining as the Raiders pulled out a 26-24 victory over the Los Angeles Chargers in Oakland. Derek Carr led the Raiders down the field methodically 75 yards after Philip Rivers threw a 6-yard pass to Austin Ekeler that gave the Chargers a 24-20 lead with 4:02 remaining. Carr was 21 of 31 for 218 yards, one TD and no interceptions.
Sunday
Detroit Lions at Chicago Bears, 1:00 p.m.                          WSJM Sports/Cosy-FM 11:00
Miami Dolphins at Indianapolis Colts, 1:00 p.m.
Minnesota Vikings at Dallas Cowboys, 8:20 p.m.                106.1 & 1400 WSJM Sports 7:30
NFL – Monday night black cat still on the loose at MetLife Stadium
The elusive black cat from "Monday Night Football" is still on the run. MetLife Stadium officials said Thursday the search for the fleet feline that briefly delayed the nationally televised game between the New York Giants and Dallas Cowboys on Monday night has been unsuccessful. The search started on Tuesday morning with multiple humane traps being stationed in the stadium. After that came up empty, stadium officials asked PuppykittyNYCity — a trap, neuter, release and no-kill shelter — for help.  "We are hopeful that together we can find the black cat that we all fell in love with Monday night," the stadium statement said. PuppykittyNYCity said in a statement Thursday that if the cat is caught, it will be assessed for a home or relocation. "Even though we want to relocate him, we still support TNR (trap, neuter, release) programs," the nonprofit, volunteer-run rescue organization said in its release.  
NHL – National Hockey League
Last Night
Chicago Blackhawks 5, Vancouver Canucks 2
Blackhawks 5, Canucks 2 – Kane has goal and 2 assists, Blackhawks beat Canucks 5-2
Patrick Kane had a power-play goal and two assists, and the Chicago Blackhawks beat the Vancouver Canucks 5-2 on Thursday night.  Alex DeBrincat and Andrew Shaw scored in the first period, and Dylan Strome had three assists as Chicago dealt Vancouver its first regulation loss since Oct. 19 at New Jersey. David Kampf and Brandon Saad added empty-netters. J.T. Miller and Jake Virtanen scored for the much-improved Canucks, who entered on a 5-0-3 run to climb to second place in the Pacific Division. Chicago's Corey Crawford made 36 saves. Jacob Markstrom blocked 32 shots.
Tonight
Boston Bruins at Detroit Red Wings, 7:30 p.m.
NBA – National Basketball Association
Tonight
Detroit Pistons at Indiana Pacers, 7:00 p.m.
NBA – Blake Griffin cleared for basketball-related activities
Blake Griffin has been cleared by the Detroit Pistons' medical staff for basketball-related activities, and the team says his progress will be monitored daily. Griffin hasn't played at all this season because of hamstring and knee issues. The Pistons are 4-5 without him. Detroit also released updates on other injured players Thursday. Derrick Rose (hamstring strain) and Tim Frazier (shoulder strain) are day to day, continuing treatment and rehab. Reggie Jackson (lower back stress reaction) remains out. The Pistons beat the New York Knicks 122-102 on Wednesday night. Detroit plays at Indiana on Friday night.
NCAAFB – College Football – Week 11
Saturday
Illinois at Michigan State, 3:30 p.m.                                  Superhits 103.7 Cosy-FM 2:00
(15) Notre Dame at Duke, 7:30 p.m.
Michigan is off
NCAAMBB – Men's College Basketball
Today
Siena Heights at Eastern Michigan, 9:45 a.m.
Saturday
Robert Morris at Notre Dame, 12:00 p.m.
Western Michigan at Milwaukee, 7:00 p.m.
Sunday
Mississippi Valley State at Central Michigan, 2:00 p.m.
Binghamton at (1) Michigan State, 7:00 p.m.                      Superhits 103.7 Cosy-FM 6:00
NCAAWBB – Women's College Basketball
Today
Olivet College at Eastern Michigan, 12:15 p.m.
Loyola (MD) at (16) Notre Dame, 6:30 p.m.
Detroit Mercy at (17) Michigan State, 7:00 p.m.
Western Michigan at (25) Michigan, 7:00 p.m.
Golf – Woods adds self to Presidents Cup roster
U.S. Presidents Cup captain Tiger Woods has used one of his four wild-card selections on himself.  The decision makes Woods the first playing captain in the tournament since Hale Irwin in the inaugural edition 25 years ago. Woods is the reigning Masters champion and is No. 6 in the world ranking. He tied the PGA Tour record with his 82nd career victory, capturing the Zozo Championship in Japan two weekends ago. Woods also took Tony Finau, U.S. Open champion Gary Woodland and Patrick Reed as his other wild-card selections. The Presidents Cup is Dec. 12-15 at Royal Melbourne.
Golf – Champions – Maggert has lead with 63
Jeff Maggert is the first-round leader through one round of the Charles Schwab Cup Championship.  Maggert shot an 8-under 63 in perfect conditions at Phoenix Country Club to take a one-stroke lead over Bernhard Langer. Miguel Angel Jimenez, Paul Goydos and Steve Flesch are another shot back and one ahead of Jerry Kelly, Retief Goosen, Lee Janzen and Scott Parel. Langer, Kelly, Goosen and Colin Montgomerie made moves to catch Scott McCarron in the PGA Tour Champions' season standings. McCarron is tied for 22nd in the 34-man field after a 69.
AHL – American Hockey League
Tonight
Toronto Marlies at Grand Rapids Griffins, 7:00 p.m.
ECHL – ECHL Hockey
Tonight
Fort Wayne Komets at Kalamazoo Wings, 7:00 p.m.
Toledo Walleye at Indy Fuel, 7:35 p.m.
NBAGL – NBA "G" League
Tonight
Grand Rapids Drive at Raptors 905 (Mississauga, ON), 7:30 p.m.
Windy City Bulls at Wisconsin Herd, 8:00 p.m.

MHSAA – High School Athletics
Last Night
Girls Volleyball – District Semifinal
Division 3 at Lawton
Brandywine 3, Lawton 0
Bridgman 3, Cassopolis 0
Girls Volleyball – District Championship
Division 1 at Mattawan
Mattawan 3, Portage Northern 0
Division 1 at Sturgis
Gull Lake 3, Sturgis 0
Division 2 at South Haven
Paw Paw 3, South Haven 1
Division 3 at Centreville
Bronson 3, Centreville 1
Division 3 at Kalamazoo Christian
Schoolcraft 3, Kalamazoo Christian 0
Division 3 at Watervliet
Gobles 3, Hartford 0
Division 4 at River Valley
New Buffalo 3, Michigan Lutheran 0
Division 4 at Mendon
Mendon 3, Howardsville Christian 0
Tonight
Football (11-player) – District Championship
Division 2
Grand Rapids Forest Hills Central (8-2) at Portage Northern (9-1), 7:00 p.m.
Division 3
Edwardsburg (10-0) at Zeeland West (9-1), 7:00 p.m.
Division 4
Marshall (6-4) at Paw Paw (9-1), 7:00 p.m.                               Superhits 103.7 Cosy-FM
Division 5
Kalamazoo United (6-4) vs. Hopkins (9-1), 7:00 p.m.                   at Hamilton
Division 6
Constantine (8-2) at Hillsdale (10-0), 7:00 p.m.
Division 7
Lawton (10-0) at Schoolcraft (9-1), 7:00 p.m.
Division 8
Cassopolis (10-0) at Reading (9-1), 7:00 p.m.
Saturday
Football (11-player) – District Championship
Division 2
Livonia Churchill (6-4) at Battle Creek Lakeview (10-0), 1:00 p.m.
Football (8-player) – Regional Championship
8-Player Division 1
Martin (10-0) at Colon (10-0), 1:00 p.m.
8-Player Division 2
Onekama (7-3) at Climax-Scotts (8-2), 1:00 p.m.
Girls Volleyball – District Championship
Division 2 at Buchanan
Buchanan vs. Edwardsburg, 10:00 a.m.
Division 2 at Plainwell
Plainwell vs. Vicksburg, 11:00 a.m.
Division 3 at Lawton
Brandywine vs. Bridgman, 10:00 a.m.