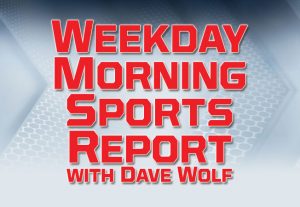 NCAAMBB – Men's College Basketball
Last Night
(9) North Carolina 76, Notre Dame 65
Western Michigan 75, McNeese State 65
(9) North Carolina 76, Notre Dame 65 – Freshman Anthony scores 34 points, No. 9 UNC beats Irish
Freshman Cole Anthony had 34 points and 11 rebounds in his college debut, leading No. 9 North Carolina past Notre Dame 76-65 in their opener Wednesday night.  With his father — former UNLV and NBA guard Greg Anthony — in the stands, the Atlantic Coast Conference preseason freshman of the year broke Rashad McCants' 17-year-old scoring record by a freshman in his first game and finished 12 of 24 from the field with six 3-pointers.  Anthony scored 15 points during a 29-13 second-half run that put the Tar Heels in control.  Prentiss Hubb scored a career-high 22 points, T.J. Gibbs added 19 and John Mooney finished with 10 for the Fighting Irish. They led 37-32 just under 2 minutes into the second half.
WMU 75, McNeese State 65 – Flowers carries W. Michigan past McNeese St. 75-65
Michael Flowers had 24 points as Western Michigan defeated McNeese State 75-65 on Wednesday night. B. Artis White added 20 points for the Broncos.  Flowers hit 4 of 6 3-pointers and went 10 for 10 from the foul line.  Brandon Johnson had eight rebounds for Western Michigan (1-0). Jason Whitens added six rebounds.  A.J. Lawson had 21 points for the Cowboys (0-1). Shamarkus Kennedy added 15 points and 13 rebounds. Dru Kuxhausen had 10 points.  Western Michigan plays Milwaukee on the road on Saturday. McNeese State plays Louisiana-Lafayette on the road on Saturday.
NCAAWBB – Women's College Basketball
Last Night
Green Bay 111, Central Michigan 105 – 2 OT
NHL – National Hockey League
Last Night
New York Rangers 5, Detroit Red Wings 1
Rangers 5, Red Wings 1 – DeAngelo, Lundqvist lead Rangers to 5-1 win over Red Wings
Tony DeAngelo had a goal and an assist in New York's three-goal second period, Henrik Lundqvist stopped 35 shots during his first start in 10 days, and the Rangers beat the struggling Detroit Red Wings 5-1 Wednesday night.  Artemi Panarin and Ryan Strome also had a goal and an assist apiece, and Chris Kreider and Greg McKegg scored to help New York win for the fourth time in six games. Lundqvist, after sitting out the previous three games, made 24 saves over the final 28:06.  Valtteri Filppula scored and Jimmy Howard finished with 26 saves, but the Red Wings' fourth straight loss dropped them to 1-11-1 in their last 13 games. Detroit won the previous five meetings with the Rangers.
Tonight
Vancouver Canucks at Chicago Blackhawks, 8:30 p.m.
NHL – Blues acquire de la Rose from Red Wings for Fabbri
The St. Louis Blues acquired forward Jacob de la Rose from the Detroit Red Wings on Wednesday night in exchange for forward Robby Fabbri. The 24-year-old de la Rose had a goal and three assists in 16 games for the Red Wings this season. The Swede has 12 goals and 20 assists in 195 regular-season games with Montreal and Detroit. The 23-yeae-old Fabbri had a goal in nine games for the Blue this season. He has 32 goals and 41 assists in 164 regular-season games, all with the Blues. He appeared in 10 playoff games last season to help St. Louis win the Stanley Cup. St. Louis beat Edmonton 5-2 on Wednesday night for its sixth straight victory. Detroit lost 5-1 at the New York Rangers, the Red Wings' fourth straight loss. They are 1-11-1 in their last 13 games.
NFL – National Football League – Week 10
Tonight
Los Angeles Chargers at Oakland Raiders, 8:20 p.m.                    106.1 & 1400 WSJM Sports 8:00
NBA – National Basketball Association
Last Night
Detroit Pistons 122, New York Knicks 102
Indiana Pacers 121, Washington Wizards 106
Chicago Bulls 113, Atlanta Hawks 93
Pistons 122, Knicks 102 – Snell perfect from field as Pistons rout Knicks 122-102
Tony Snell scored 24 points on 9-of-9 shooting and the short-handed Detroit Pistons had little trouble with New York, beating the Knicks 122-102 on Wednesday night. Andre Drummond had 27 points, 12 rebounds and seven assists, and Markieff Morris added 22 points for Detroit. The Pistons played without their injured trio of Blake Griffin, Derrick Rose and Reggie Jackson. Detroit still shot 56 percent from the field and dropped the Knicks to an NBA-worst 1-7. The Pistons have won eight straight meetings with New York.
Pacers 121, Wizards 106 – Warren scores 21 to lead Pacers over Wizards 121-106
T.J. Warren scored 21 points to lead the Indiana Pacers to a 121-106 victory over the Washington Wizards on Wednesday night.  Doug McDermott came off the bench and scored 17 of his 19 points in the first half for the Pacers (4-4), who were playing their third game in four nights. Aaron Holiday finished with 18 points. Domantas Sabonis, who missed the last two games with a left calf contusion, had 13 points and tied his career high with 17 rebounds before fouling out with 3:20 left to play.  Bradley Beal had 30 points, five rebounds and five assists to lead the Wizards (2-5), who have lost four of five games. Thomas Bryant had 20 points and 11 rebounds and C.J. Miles added 15 points.
Bulls 113, Hawks 93 – Bulls race to big lead in opening minutes, rout Hawks 113-93
Tomas Satoransky scored 27 points and the Chicago Bulls raced to a big lead in the opening minutes on the way to a 113-93 rout of the Atlanta Hawks on Wednesday night.  The Bulls won for just the third time in nine games with easily their most impressive performance of the young season.  One night after squandering a big lead in the fourth quarter of a loss to LeBron James and the Lakers, Chicago didn't have to worry about wilting against the Hawks.  This was total domination. Zach LaVine even got a chance to put on his version of Showtime, blocking De'Andre Hunter's 3-pointer to set up a 360-degree dunk at the other end.  Atlanta made a season-low six of 30 attempts from 3-point range, turned it over 24 times and trailed by double digits over the final 41:29.
MLB – Angels finalize new manager Maddon's coaching staff for 2020
The Los Angeles Angels have finalized new manager Joe Maddon's coaching staff for the 2020 season, including the retention of hitting coach Jeremy Reed and the hiring of new pitching coach Mickey Callaway. The Angels announced the full staff Wednesday. Brian Butterfield will be the Angels' third base coach. The veteran infield coach spent the past two seasons working under Maddon in the same job for the Chicago Cubs. Former Cubs hitting coach John Mallee joins the Angels as an assistant hitting coach to Reed, who was Brad Ausmus' hitting coach last season with the Angels. Callaway was the New York Mets' manager for the past two seasons. Jesus Feliciano returns as the Angels' first base coach. Jose Molina returns as catching coach.
MLB – MLB union unhappy with Braves GM's 'connecting' comment
Two days into the free agent market, the players' association already is angry at a club. Union head Tony Clark issued a statement in response to remarks attributed to Atlanta Braves general manager Alex Anthopoulos during a conference call with media. Anthopoulos mentioned "connecting" with other clubs to find out what their plans for free agency might be, and the union characterized his remarks as evidence of prohibited collusion. The union says it's investigating the matter.
AHL – American Hockey League
Yesterday
Cleveland Monsters 5, Grand Rapids Griffins 3
Today
Chicago Wolves at Iowa Wild 11:30 a.m.
MHSAA – High School Athletics
Tonight
Girls Volleyball – District Semifinals
Division 1 at Mattawan
Mattawan 3, Lakeshore 0
Portage Northern 3, Kalamazoo Central 0
Division 1 at Sturgis
Gull Lake 3, Battle Creek Lakeview 1
Sturgis 3, Battle Creek Central 0
Division 2 at Buchanan
Edwardsburg 3, Niles 0
Buchanan 3, Berrien Springs 0
Division 2 at South Haven
Paw Paw 3, Benton Harbor 0
South Haven 3, Allegan 1
Division 2 at Plainwell
Vicksburg 3, Parchment 0
Plainwell 3, Otsego 0
Division 3 at Centreville
Centreville 3, Union City 0
Bronson 3, White Pigeon 0
Division 3 at Kalamazoo Christian
Schoolcraft 3, Vermontville Maple Valley 0
Kalamazoo Christian 3, Galesburg-Augusta 0
Division 3 at Watervliet
Hartford 3, Bloomingdale 1
Gobles 3, Bangor 2
Division 4 at River Valley
Michigan Lutheran 3, Countryside 0
New Buffalo 3, River Valley 0
Division 4 at Mendon
Howardsville Christian 3, Lawrence 0
Mendon 3, Kalamazoo Heritage Christian 0
Tonight
Girls Volleyball – District Semifinals
Division 3 at Lawton
Lawton vs. Brandywine, 5:00 p.m.
Bridgman vs. Cassopolis, 7:00 p.m.
Girls Volleyball – District Championship
Division 1 at Mattawan
Mattawan vs. Portage Northern, 6:30 p.m.
Division 1 at Sturgis
Sturgis vs. Gull Lake, 6:00 p.m.
Division 2 at South Haven
Paw Paw vs. South Haven, 6:00 p.m.
Division 3 at Centreville
Bronson vs. Centreville, 6:00 p.m.
Division 3 at Kalamazoo Christian
Kalamazoo Christian vs. Schoolcraft, 6:30 p.m.
Division 3 at Watervliet
Hartford vs. Gobles, 6:30 p.m.
Division 4 at River Valley
Michigan Lutheran vs. New Buffalo, 7:00 p.m.
Division 4 at Mendon
Howardsville Christian vs. Mendon, 6:00 p.m.