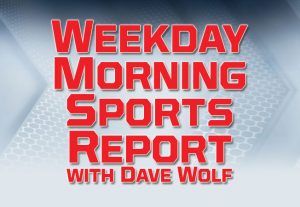 NCAAMBB – Men's College Basketball
Last Night
(2) Kentucky 69, (1) Michigan State 62
Michigan 79, Appalachian State 71
Central Michigan 102, U of M Dearborn 62
(2) Kentucky 69, (1) Michigan State 62 – Maxey leads No. 2 Kentucky past No. 1 Michigan State 69-62
Tyrese Maxey, Kentucky's latest freshman star, scored 26 points and the second-ranked Wildcats opened the season with a 69-62 victory against No. 1 Michigan State on Tuesday night in the Champions Classic at Madison Square Garden.  The Nos. 1 and 2 teams opened their seasons against each other for the first time since 1975 and the Wildcats made their case to be top-ranked next week.  Michigan State entered the season as the No. 1 team in the country for the first time, but aside from All-American Cassius Winston, the Spartans struggled to score. Winston had 21 points.  This Kentucky team is built around returning contributors instead of one-and-done freshmen, but Maxey asserted himself in his first game. After Winston cut the lead to three on a three-point play with 1:27 left, Maxey hit a straight on 3 from way behind the line to make it 65-60 with 59 seconds left.
Michigan 79, Appalachian State 71 – Michigan wins Howard's debut, 79-71 over Appalachian State
Jon Teske had 17 points and 13 rebounds, and Michigan turned Juwan Howard's debut into a success, holding off Appalachian State 79-71 on Tuesday night in the former Fab Five standout's first game as the Wolverines' coach.  Howard returned to the school he helped reach two Final Fours as a player, taking over as coach this past offseason after John Beilein left for the NBA. Howard was welcomed warmly by the home crowd, which included former teammate Jalen Rose. Teske scored Michigan's first 11 points, and the 7-foot-1 senior had a double-double well before halftime.  Michigan led by 30 in the second half before nearly collapsing down the stretch. A 3-pointer by Appalachian State's Adrian Delph made it 72-67 with 38.8 seconds left, but the Mountaineers couldn't complete the comeback.  Eli Brooks led the Wolverines with 24 points, and Isaiah Livers added 14. Michigan led 46-25 at halftime.
CMU 102, U-M Dearborn 62 – Morgan leads Cent. Michigan over Michigan-Dearborn 102-62
Dallas Morgan had a career-high 23 points as Central Michigan easily defeated Michigan-Dearborn 102-62 on Tuesday night. David DiLeo added 22 points for the Chippewas.  Travon Broadway had 17 points for Central Michigan (1-0). Rob Montgomery added 12 points and nine rebounds.  Jason Gigliotti had 11 points and seven rebounds for the Wolves. Zach Lattimer added 11 points.  Central Michigan matches up against Mississippi Valley State at home on Sunday.
Tonight
Notre Dame at (9) North Carolina, 7:00 p.m.
McNeese at Western Michigan, 7:00 p.m.
NCAAFB – College Football – Week 11
Last Night
Western Michigan 35, Ball State 31
WMU 35, Ball State 31 – Western Michigan bowl eligible, beats Ball State 35-31
LeVante Bellamy ran for 157 yards and three TDs and Western Michigan became bowl eligible for a school-record sixth straight year with a 35-31 win over Ball State on Tuesday night.  Bellamy has an FBS-best 20 TD runs this season, and the Broncos (6-4, 4-2) moved into a first-place tie with Central Michigan in the Mid-American Conference West Division.  Western Michigan's Jon Wassink passed for 124 yards and ran six times for 131 yards, including a 60-yard carry, a 46-yard TD and a 13-yarder for a first down to clinch the victory in the final minute.  The fourth quarter had four lead changes. The Cardinals (4-5, 3-2) took a 24-21 lead on Drew Plitt's 1-yard TD run and went in front again on Walter Fletcher's 4-yard run that made it 31-28.  Bellamy had a 16-yard run to give the Broncos a 28-24 lead and a 9-yard run to cap the scoring with 1:05 left.  Ball State's Caleb Huntley ran for 120 yards and a touchdown and Malik Dunner had a 100-yard kickoff return for a touchdown.
NCAAWBB – Women's College Basketball
Last Night
(17) Michigan State 85, Eastern Michigan 50
(16) Notre Dame 60, Fordham 55
(17) Michigan State 85, EMU 50 – Clouden, No. 17 Michigan St. women beat E. Michigan 85-50
Nia Clouden scored 23 points and No. 17 Michigan State scored the first 28 second-half points to pull away as the Spartans beat Eastern Michigan 85-50 on Tuesday in the season opener for both teams.  Corrione Cardwell had 13 points for the Eagles and was the lone Eastern Michigan player to score in double figures.  The Spartans are 16-1 all-time against EMU.
(16) Notre Dame 60, Fordham 55 – Freshmen help No. 16 Notre Dame women beat Fordham 60-55
Freshmen Sam Brunelle and Anaya Peoples scored in double figures in their Notre Dame debut, Katlyn Gilbert added 14 and the 16th-ranked Irish held off Fordham 60-55 on Tuesday night.
Brunelle scored 14 points, Peoples had 11 and Destinee Walker 10 in the 1,000th victory for the Notre Dame program and the 26th consecutive victory in a season opener. 
Tonight
Green Bay at Central Michigan, 7:00 p.m.
NCAAFB – Buckeyes No. 1 in first CFP rankings
Ohio State, LSU, Alabama and Penn State are the top four in the College Football Playoff selection committee's first rankings of the season.  Next up were defending national champion Clemson, Georgia and Oregon. The 13-member committee will produce four more sets of rankings each Tuesday before the only ones that really count come out on selection Sunday, Dec. 8.  The top four in the selection committee's initial rankings have never all reached the semifinals in the playoff's five-year history. Eleven of the 20 teams that started in the top four of the CFP rankings have reached the playoff, but, oddly, never the team ranked third.
NCAAFB – Minnesota, coach PJ Fleck agree to 7-year extension
No. 13 Minnesota and coach P.J. Fleck have agreed on a seven-year contract extension that will keep him with the Golden Gophers through the 2026 season.  The extension was announced Tuesday and is pending approval from the Board of Regents. Fleck calls it "a tremendous honor to lead this team," and said the Gophers are building "a championship culture."  Fleck is in his third year at Minnesota, which is off to an 8-0 start (5-0 Big Ten).  Fleck is 20-13 at Minnesota, but is 12-2 in his last 14 games. His winning percentage of 60.6% ranks third in school history for anyone who has coached more than 30 games and is the best since Bernie Bierman, who last coached at Minnesota in 1950. Fleck turns 39 on Nov. 29
NHL – National Hockey League
Last Night
San Jose Sharks 4, Chicago Blackhawks 2
Sharks 4, Blackhawks 2 – Marleau's goal helps Sharks beat Blackhawks 4-2 to snap skid
Patrick Marleau celebrated his 800th consecutive game by scoring a goal, and the San Jose Sharks snapped a five-game losing streak Tuesday night with a 4-2 victory over the Chicago Blackhawks. Evander Kane added a short-handed goal later in the second, Tomas Hertl and Timo Meier also scored for the Sharks.  Brandon Saad and Duncan Keith scored for Chicago.  Robin Lehner made 28 saves for the Blackhawks.
Tonight
Detroit Red Wings at New York Rangers, 8:00 p.m.
NBA – National Basketball Association
Last Night
Los Angeles Lakers 118, Chicago Bulls 112
Charlotte Hornets 122, Indiana Pacers 120 – OT
Lakers 118, Bulls 112 – LeBron posts latest triple-double, Lakers rally past Bulls
LeBron James had 30 points, 11 assists and 10 rebounds for his third consecutive triple-double, and the Los Angeles Lakers rallied to beat the Chicago Bulls 118-112 on Tuesday night for their sixth straight victory.  Los Angeles trailed by 19 before shutting down Chicago in the fourth quarter during the finale of a three-game trip. While James turned in another brilliant performance, he was on the bench for most of a 16-0 run to begin the final period.  Kyle Kuzma, Quinn Cook and Dwight Howard sparked the Lakers' comeback. Kuzma scored 11 of his 15 points in the fourth, and Howard had a key block on Coby White during the big spurt. Cook made a 3-pointer to give Los Angeles a 94-93 lead with 8:53 remaining.  Cook finished with 17 points, and Anthony Davis had 15 points and seven rebounds. It was Davis' first game in his native Chicago since he was acquired in a trade with New Orleans.  Chicago lost for the fifth time in six games. Zach LaVine scored 26 points, and White and Otto Porter Jr. each finished with 18. Wendell Carter Jr. had 11 points and 11 rebounds.
Hornets 122, Pacers 120 – OT – Graham lifts Hornets past Pacers 122-120 in OT
Devonte Graham capped his career-high 35-point performance by hitting two free throws with 1.7 seconds left in overtime to send the Hornets to their third straight win, 122-110 over the Pacers. Terry Rozier added 22 points and Miles Bridges had 18 for Charlotte, which battled back from a 14-point, fourth-quarter deficit.  T.J. Warren scored 33 points on 15-of-18 shooting and Malcolm Brogdon added 31 points for the Pacers (3-4), who had their three-game winning streak snapped.
Tonight
New York Knicks at Detroit Pistons, 7:00 p.m.
Washington Wizards at Indiana Pacers, 7:00 p.m.
Chicago Bulls at Atlanta Hawks, 7:30 p.m.
MHSAA – High School Athletics
Last Night
Girls Volleyball – Districts
Division 3 at Lawton
Lawton 3, Marcellus 0
Bridgman 3, Decatur 1
Tonight
Girls Volleyball – Districts
Division 1 at Mattawan
Lakeshore vs. Mattawan, 5:30 p.m.
Portage Northern vs. Kalamazoo Central, 7:00 p.m.
Division 1 at Sturgis
Battle Creek Lakeview vs. Gull Lake, 5:30 p.m.
Sturgis vs. Battle Creek Central, 7:30 p.m.
Division 2 at Buchanan
Niles vs. Edwardsburg, 5:30 p.m.
Buchanan vs. Berrien Springs, 7;30 p.m.
Division 2 at South Haven
Benton Harbor vs. Paw Paw, 5:30 p.m.
Allegan vs. South Haven, 7:00 p.m.
Division 2 at Plainwell
Parchment vs. Vicksburg, 5:00 p.m.
Plainwell vs. Otsego, 7:00 p.m.
Division 3 at Centreville
Centreville vs. Union City, 5:30 p.m.
Bronson vs. White Pigeon, 7:00 p.m.
Division 3 at Kalamazoo Christian
Schoolcraft vs. Vermontville Maple Valley, 5:00 p.m.
Kal. Christian vs. Galesburg-Augusta, 6:30 p.m.
Division 3 at Watervliet
Hartford vs. Bloomingdale, 5:30 p.m.
Bangor vs. Gobles, 7:00 p.m.
Division 4 at River Valley
Michigan Lutheran vs. Countryside, 5:30 p.m.
New Buffalo vs. River Valley, 7:00 p.m.
Division 4 at Mendon
Howardsville Christian vs. Lawrence, 5:30 p.m.
Mendon vs. Kalamazoo Heritage Christian, 7:00 p.m.