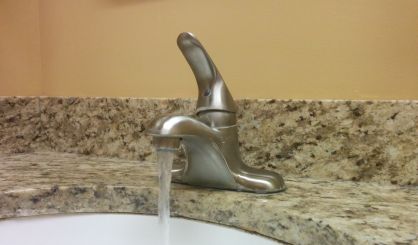 A public advisory has been issued in the village of Eau Claire due to elevated lead levels detected in a recent water sample. Berrien County Health Department spokesperson Gillian Conrad tells WSJM News there was one home that had a lead level exceeding the action level.
"Here in Eau Claire, there were nine homes that were sampled, and out of those nine homes during this recent compliance testing, there was one home that had lead levels in the water that were above that regulatory action level of 15 parts per billion," Conrad said.
Conrad says because one out of nine is enough to constitute 10% of the homes tested, that triggers the Action Level Exceedence warning. She notes there has been no lead found in the village's water mains or service lines. However, until additional testing for lead is done in the village…
"The Berrien County Health Department is recommending that homes, residences that have children and/or pregnant women, use a water filter, one that is certified to remove lead from the water."
Conrad says the Berrien County Health Department is giving out water filters to households that have pregnant women, children, and a financial need in the village of Eau Claire. You can pick them up at the Eau Claire village office on Friday from 2 to 6 p.m and on Tuesday from 2 to 6 p.m.
For more information on how to identify potential lead hazards and remove them safely, you can visit www.bchdmi.org to learn about lead poisoning prevention and healthy homes.
Residents with questions are encouraged to call the Berrien County Health Department Water Response Hotline at 1-800-815-5485. More information regarding lead in drinking water and your health can be found at www.eauclairemi.com or www.bchdmi.org or Michigan.gov/MiLeadSafe.