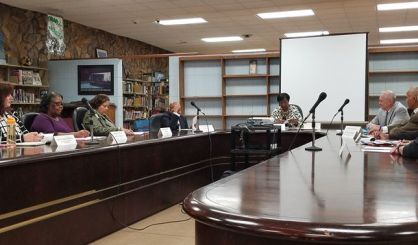 The Benton Harbor Area Schools Community Engagement and Advisory Committee has held its first meeting, mostly to get organized as it prepares to draft a plan for turning the school district around. At Wednesday's meeting, Deputy State Treasurer Joyce Parker was selected to serve as chair. The committee decided to meet on the first Monday of each month, starting next Monday, usually at Benton Harbor High School at 5 p.m. Parker told WSJM News about the panel's work.
"The assessment and the operating plan have to be completed within six months, which would take us to the end of March, the beginning of April," Parker said. "Once that occurs, our goal is to look at implementation right after the plan is approved.
The turnaround plan would have to be approved by the Benton Harbor Area Schools Board of Education, the Michigan Department of Treasury, and the Michigan Department of Education. Parker said previous plans for improving Benton Harbor Area Schools will be studied as part of this process. That's something members of the public asked about at Wednesday's meeting. Apollonia Williams told the committee there have been plenty of meetings, but not much progress.
"We all want to see the school system better," Williams said. "We all do. But we've got to start doing something besides just having meetings all of the time, and then after the meeting, we don't see each other or do anything until the next meeting."
Parent Angel Crayton told the committee help is needed for the district.
"All of the parents have one voice, and that one thing is stability, and that's something that right now we're not feeling," Crayton said. "So we're going to give you our trust and our hope that you can provide that. So far, no one has done that for us."
A website is being put together for the advisory committee, and there will be subcommittees engaging parents. We asked Parker if the state has ever done anything like this with a school district before, and she said she believes this is the first time. What the advisory committee comes up with could be used as a blueprint for other struggling districts in the future. Parker was asked how much of an uphill battle the advisory committee is facing.
"I can't say how much of an uphill battle it's going to be until this assessment is completed, and then we'll have a better idea of what the causes are, and from there develop solutions," Parker said. "My goal is to make sure that we have the support and partners in place."
Parker said that's so there isn't one entity carrying all of the weight. Two members of the advisory committee, a parent and a student, have yet to be named. Other members include Benton Harbor Interim Superintendent Patricia Robinson, Pastor Maurice McAfee, the Berrien Community Foundation's Lisa Cripps-Downey, school trustee Denise Whatley Seats, school board consultant Wayne Wilson, Dr. Michael Spencer, local teachers union president Brenda Terrell, and a representative of the Michigan Department of Education.