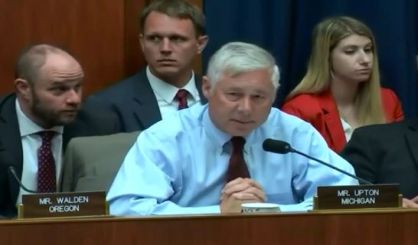 Congressman Fred Upton is praising U.S. special forces for ridding the free world of what he calls its number one enemy, Abu Bakr al-Baghdadi. The ISIS leader was killed over the weekend in northwest Syria. Upton tells WSJM News that doesn't mean the fight against ISIS is over.
"This is a snake that is still ready to jump out of its hole, and we are going to have to be ever so diligent," Upton said.
Upton was critical when President Trump ordered the removal of U.S. troops out of northeastern Syria, saying the move could strengthen ISIS. He continues to have that concern. Still, he praises special forces for killing Baghdadi.
"He was the number one terrorist. A number of us have seen videos of not only beheadings, but drownings and burnings and cages of people."
Survivors and families of victims of the Islamic State group also say the fight against extremism is not over with the death of Baghdadi. Upton hopes his death will lead to the discovery of information to prevent future ISIS attacks. His official statement on the new of Baghdadi is below.
"Credit to our American Special Forces that have rid us of the #1 enemy of the free world—Abu Bakr al-Baghdadi, no longer a name we need to remember! The country and the world are safer places for sure."