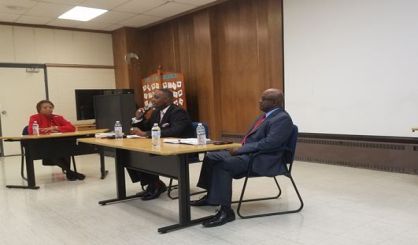 The two candidates for mayor of Benton Harbor have squared off in a debate. Mayor Marcus Muhammad and City Commissioner Ron Singleton took questions on topics including housing, education, the water system, and how to bring commissioners together Tuesday night at the Benton Harbor Public Library. Singleton, a former teacher, police officer, and acting city manager, said he's running because he believes people should have a choice and he thinks there should be a new approach.
"We always look at building the community from the outside in, and I believe we need to try the inside out," Singleton said. "As we can see, things inside the community are pretty much the same."
Singleton said that's despite millions of dollars that flow through the community. Muhammad pointed to a balanced city budget, positive audits, street work, and new housing developments are reasons why he should be allowed another term. Muhammad was asked how the city could promote affordable housing for all kinds of residents.
"We have to attract investors and people that are willing to come in and turn what was into something that is new," Muhammad said.
Singleton said there's plenty of space for housing, and the city should promote all kinds. Muhammad said he's the city led during a time when Benton Harbor's financial house has been put in good order.
"Benton Harbor has never had $2 million in cash sitting in the bank, but we do now," Muhammad said. "We've never had over $4 million in a rainy day fund."
The two were also asked about helping residents with criminal records get jobs, and Singleton had some thoughts.
"There's a lot of crimes that folks get stuck on them that they're good people, and they deserve another chance,"Singleton said. "We need to deal with that. We need to have education on expungement."
Muhammad said the city has made hiring city residents, and residents with records, a condition of getting tax breaks when businesses come asking for them. The two candidates agreed it's not true to say the city commission is always fighting, but rather it has debates before deciding on what's best for residents. The election will be next Tuesday. There's also a contested race for city commissioner at large. Two will be elected, with Commissioners Mary Alice Adams and Edward Isom set to be on the ballot along with newcomer Jennifer Nesbitt.