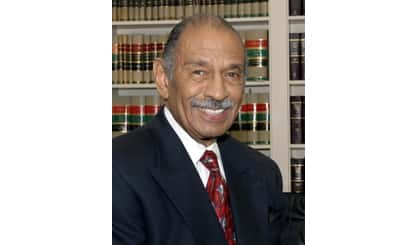 Former Congressman John Conyers of Detroit has died at the age of 90. During a campaign rally in Detroit yesterday, Senator and 2020 Democratic presidential hopeful Bernie Sanders remembered his colleague and friend.
"John was a champion for civil rights, he was the man most responsible for having a national holiday for the great Martin Luther King, Jr," said Sanders to loud cheers. Congresswoman Rashida Tlaib, who won the special election following Conyers' resignation in 2017, spoke of his service during that rally.
"He never, never once wavered in fighting for us," said Tlaib. "He stood on issues of equality and civil rights for our people. He served and fought for us for over 50 years."
Reverend Wendell Anthony, the president of the Detroit branch of the NAACP, said Conyers "stood in the gap when it came to federal judges that were not going to be as judicious as we might have wanted and the nation calls for them to be."
Conyers spent 53 years in office before a sexual harassment controversy drove him to resign in 2017, but his legacy includes creating the Congressional Black Caucus and introducing the Voting Rights Act during his freshman term in 1965. Detroit Mayor Mike Duggan calls Conyers' death a huge loss, while Governor Gretchen Whitmer says the impact by Conyers on the state "will not be forgotten." Reverend Al Sharpton added the veteran congressman worked with him on civil rights cases while chairman of the House Judiciary Committee and says Conyers led the fight to have a holiday for Dr. Martin Luther King, Jr.